May
May 15, 2001 | Volume 9, Number 5
Hot Fun in the Summertime? It's in the Tri-Valley!
By Denise Howe - Special to Network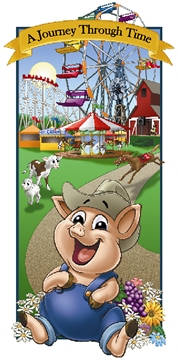 By Denise Howe - Special to Network
Whether you're looking for Irish food, Scottish bagpipe music, cool Mississippi blues, hot American jazz, antiques from around the world, hot rods from all over the West, or one of the finest rodeos in the country, it's all right here in the Tri-Valley. Here's our directory of outdoor summer festivals and family events throughout the valley from May through September.
First Wednesday Street Parties
First Wednesday Street Parties take place from 6:00 to 9:00 p.m. from May through October in downtown Pleasanton, sponsored by the Pleasanton Downtown Association. The event captures everything you want in small-town charm. Visit with your friends and neighbors and browse the street booths where local merchants and business people showcase their products and services. Live bands add to the festive atmosphere. There is great food from vendors or in the restaurants, children's activities, nonprofit organization displays, and a micro-brew and wine garden. There is no admission fee. On June 6, it's the Reggae Festival. July is skipped due to Independence Day but the event resumes August 1 with a jazz festival. On September 5, there's more music with a blues festival. The season winds down with a splashy Oktoberfest on October 3 with German music and food.
Friday Concerts in the Park
Friday Concerts in the Park are from 7:00 - 8:30 p.m. at Wayside Park, First Street in Pleasanton through the summer. This is the place to take the family and let the kids set the tone by rockin' and rollin' in front of the bandstand. Then everyone else joins in to dance the night away! Pack a picnic dinner, grab a blanket to sit on and come enjoy an evening of rock, blues, old favorites, and more. Free admission. This popular series is presented by Pleasanton Downtown Association and PeopleSoft.
May 25 - Amador Valley High School band plays a variety of pop numbers. June 1 - Foothill High School band plays popular music. June 8 - T. Lane and the Nitehawks play the blues. June 15 - Clay Burton band play the blues. June 22 - Stony Ridge Ramblers play Dixieland June 29 - Sliders have music from the 40s to the 90s. July 6 - Vintage Brass brings traditional favorites. July 13 - Direct Access plays rock 'n' roll. July 20 - PeopleSoft's Raving Daves play rock 'n' roll July 27 - Liv Out Loud plays classic rock and dance music. August 3 - Off the Record entertains with 70s and 80s hits. August 10 - Tom Rose and the Thorns bring us back to the blues. August 17 - Pleasanton's own Community Concert Band plays everything from marches to show tunes. August 24 - No concert as this is Hot Rod Heaven night. August 31 - Tommy and the 4 Speeds, the most popular concert of every year.
May 19, 20 81st Annual Rowell Ranch Rodeo , Rowell Ranch, I-580, Dublin. Be part of the cowboy experience! See the stock and equipment, and enjoy a barbecue and live entertainment. Gates open at 10:00 a.m. with the grand entry at 1:30 p.m. Tickets (925) 447-4203. May 27, 28 San Ramon Art Wind Festival , San Ramon Central Park, Bollinger Canyon Road. Join with others to salute and enjoy a big part of the San Ramon ambience: the wind that is a gentle part of everyday life. The event runs from 10:00 a.m. to 5:00 p.m. and you'll find kite-flying demonstrations by skilled hobbyists, kite-making lessons and workshops, hot air balloons, helicopter landings, crafts booths, food, a kid's area and a 5k run/walk/inline skate. There is free admission to this festival, sponsored by the City of San Ramon. May 28 Antiques Fair , downtown Pleasanton. Antique lovers will enjoy browsing and buying at the Downtown Antiques Fair on Main Street from 10 a.m. to 5 p.m., sponsored by the Pleasanton Downtown Association. This is one of the largest outdoor antiques fairs in California and offers only "the real thing" from the 450 dealers that come from all over the West. Get there early as the fair attracts more than 10,000 people. Free admission. June 2 Children's Art Festival , Matador Community Park, 4455 Black Avenue, Pleasanton. Join the interactive fun where kids have an opportunity to sample the arts including drama, painting, crafts, dance, gymnastics, and more. Free admission to the festival from 12 noon to 4:00 p.m., sponsored by the City of Pleasanton.
16th Annual Buenas Vedas Youth Ranch Chili Cook-Off , Carnegie Park, Third Street, Livermore. From mild California chili to hot Tex-Mex, the day revolves around the taste and smell of freshly-made chili. The fun begins at 11:00 a.m. with Western-style entertainment, micro-brewers, prizes, children's events, and music. No admission fee.
June 9, 10 Heritage Days BBQ and Crafts Festival , downtown Pleasanton. Relive small town history and Americana from 10 a.m. to 5 p.m., as presented by the Pleasanton Downtown Association. You'll find more than 200 crafts vendors, food booths offering taste treats with a variety of ethnic and BBQ dishes, live music historic re-enactments, and special museum exhibits. No admission fee.
83rd Annual Livermore Pro Rodeo , Robertson Park, on Robertson Park Road, off Arroyo Rd. This top-flight event, known as the "world's fastest," is presented by the Livermore Stockmen's Rodeo Association. There is also a children's area with free pony rides and a petting zoo. The rodeo parade begins at 10:00 a.m. on Saturday in downtown Livermore. Tickets - (925) 455-1550
Wente Concerts at the Vineyard
The world's top entertainers perform at these renowned outdoor concerts at the beautiful winery at 5050 Arroyo Road, Livermore, surrounded by vineyards nestled in the foothills. Take your pick of terrace seating, indoor or outdoor dining, or a golf and entertainment package. There's music to appeal to every taste, from the wry Western stylings of Lyle Lovett to pop legends like Chicago. For information and tickets call (925) 456-2424.
June 18 - Beach Boys June 21- Doobie Brothers June 27 & 28 - Kenny Loggins July 2 & 3 - Huey Lewis and the News July 11 - Buena Vista Social Club July 12 - Joan Osborne July 13 - Counting Crows July 17 - Diana Krall July 18 - Lyle Lovett August 1 - Hall & Oates August 9 - The Moody Blues August 14 - Wynonna August 21- Boz Scaggs August 29 - Willie Nelson September 6- Chicago September 11 - Pat Benatar
June 22 to July 8 The 89th Alameda County Fair , Valley Avenue, Pleasanton. This year's fair, "A Journey Through Time," features exhibits, rides, carnival, midway games, crafts and merchandise vendors, horse racing, live music and headline entertainers. Tickets to the fair are available at the gate. The Fair parade is in downtown from 11:00 a.m. to 1:00 p.m., Saturday, June 23.
Independence Day, July 4 Celebrations
Pleasanton - Wayside Park, First Street "Celebrating Freedom and its Evolution Since the Revolution," is the theme for the Independence Day party from 12:30 - 2:30 p.m. on July 4. Highlights include a flag ceremony with color guard, band music, sing-alongs of patriotic music, history vignettes and re-enactments, speech competition winner, and food booths. Bring a picnic and blanket or chairs.
Livermore - Old Fashioned Fourth of July Celebration, Robertson Community Park, Robertson Park Road between Wente Street and Arroyo Road. This patriotic event sponsored by the City of Livermore begins as the gates open at 4 p.m. for picnicking, live musical entertainment, a free family hat parade, food and craft booths, and family games. The impressive fireworks display set to music begins at dark. Cost is $10 per vehicle and $2 per pedestrian.
San Ramon - Star- Spangled Spectacular & 5K Run/Walk and 3K Walk, Central Park, corner of Alcosta Blvd. and Bollinger Canyon Road. The family run begins at 8:30 a.m. at the park. Later in the day from 5:00 - 10:00 p.m. listen to live bands, enjoy food from nonprofit organizations, and watch sky divers arrive with American flag. Bring your picnic. The big celebration ends with Sky Concerts fireworks show. The free event is sponsored by the City of San Ramon.
San Ramon Summer Concert Series
San Ramon Central Park, Corner of Alcosta Blvd. and Bollinger Canyon Road. This Sunday Summer concert series sponsored by the City of San Ramon is designed for the entire family. It's the place to be from 5:30 - 7:30 p.m. So, fix a picnic dinner, get the kids, listen to great music, and get in some dancing. Free admission.
July 15 - Double Funk Crunch plays 70's and 80's disco, funk and classic soul hits. July 22 - The Fundamentals brings you smooth R&B, Motown and rock 'n' roll. July 29 - Mark Russo and the Classy Cats are here with swing, Latin and jump blues from the 30's, 40's, and 50's. August 5 - Kathleen Cairns and Tattoo Blue play blues and R&B August 12 - Back Pages' music is from Beatles, Stones and favorite 60's bands. August 19 - Big City Review 12-piece band plays hits from the 50's through 90's.
August 4 The 8th Annual Hop Festival , Alameda County Fairgrounds, Valley Avenue, Pleasanton. This popular party from 4:00 - 8:00 p.m. is sponsored by the Volunteer Center of Alameda County and features micro-brews from more than a dozen Western breweries. Sample food from more than two dozen restaurants and delis while enjoying live entertainment. Tickets (925) 462-3570. August 24 Hot Rod Heaven , downtown Pleasanton. Pleasanton's biggest street festival, which attracts 40,000 people each year, takes place from 5:00 to 9:00 p.m. and is sponsored by the Pleasanton Downtown Association. Hundreds of street rods, classics, and muscle cars are parked along downtown streets for visitors to enjoy. Three live bands provide dancing music and there are beer and wine gardens, t-shirt sales, food and local vendors. It's the best. (925) 484-2199
Also in this issue ...