April
April 16, 2002 | Volume 10, Number 4
Dublin/Pleasanton BART: Changing the Tri-Valley Commute in Just Five Years
By Denise Howe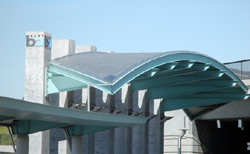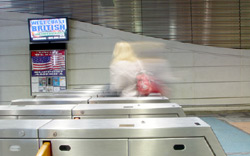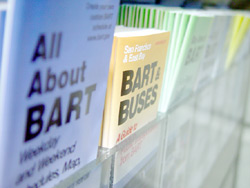 One of the most compelling reasons to live and work in the Tri-Valley is the access to the BART system that is right here in Pleasanton. This high-speed train provides unparalleled access to Bay Area cities. The combination of BART and the convenient shuttle buses that serve it make commuting easy, and a great benefit for Hacienda employers and employees.
Excitement was in the air when the grand opening was celebrated as the first train departed the Dublin/Pleasanton station at 6:03 a.m. on May 10, 1997. With the opening, BART added 14 miles to its four-county system, bringing the total length of the system at that time to 96 miles.
Today, when you see the station, you can't miss the glittery silver wave-form canopy roof. Its five varying curves reflect the geographical valley's location, with the gentle roll of the surrounding hills. The curved shape iteslf represents the sound waves generated by BART's electric propulsion.
The wave pattern design is carried through the $25 million station, right down to the detailing of the concrete walls that guide BART customers to the station entrance. The wave motif also appears on the concrete walls that customers see as they pass through the fare gates and enter the concourse directly beneath Interstate 580.
BART is popular. On the entire line that includes Dublin/Pleasanton and Castro Valley, approximately 10,000 to 12,000 passengers pass through and use the station each weekday and an average of about 7,000 passengers each weekend, Saturdays and Sundays. BART's ridership forecast is 22,500 daily riders by 2005.
The Dublin/Pleasanton extension, at $517 million, and the future West Dublin/Pleasanton station, which will cost $25 million, were funded by local resources, including Measure B half-cent sales tax receipts, the San Mateo County Transit District, bridge tolls, BART, and the State of California. The project supported, directly or indirectly, 29,000 jobs during construction.
The BART service is extensive with trains from early morning until the evening. Service begins at 4:01 a.m. weekdays with trains departing every 15 minutes during the day and every 20 minutes during the evenings and weekends.
BART continues to attract riders in large numbers. More than 10 million passengers to date have used the station entrances and exits since the May 10, 1997 opening.
BART HISTORY
BART has a long and interesting history in the Bay Area. The idea for BART began in 1951 when the State Legislature created the 26-member San Francisco Bay Area Rapid Transit Commission, comprised of representatives from each of the nine counties which touch the Bay. The Commission's charge was to study the Bay Area's long-range transportation needs in the context of environmental problems and then recommend the best solution.
Then, in 1957, the Legislature formed the San Francisco Bay Area Rapid Transit District, comprising the five counties of Alameda, Contra Costa, Marin, San Francisco and San Mateo. Between 1957 and 1962, engineering plans were developed for a system that would usher in a new era in rapid transit.
Voters in the three BART counties in 1962 approved $762 million in bonds to build BART, making it the largest locally funded public works program in the history of the United States.
Finally, it was time to for the grand opening. On June 19, 1964 President Lyndon Johnson presided over the groundbreaking for the laying of 4.4 miles of track between Concord and Walnut Creek. The Fremont system opened in 1972 and in 1974 the trans-bay tube opened.
Then, on May 10, 1997, the valley celebrated the grand opening of the Dublin/Pleasanton BART station on the 128th anniversary of completion of the Transcontinental Rail Road. With this new link, BART extended eastward with 14 miles of track from the Bay Fair station in San Leandro.
Today, BART operates in four counties, Alameda, Contra Costa, San Francisco and San Mateo and is governed by an elected, nine-person board of directors, each representing a district.
BART'S FUTURE
BART provides excellent train service throughout the Bay Area. BART gives access to cities from San Francisco and Daly City to Richmond, Pittsburg, Bay Point, and Fremont. But it won't stop there - BART has a number of plans for the future.
Construction projects have been launched for extensions to Milbrae, San Bruno, San Francisco International Airport, and South San Francisco. The four new stations have a projected ridership of nearly 70,000 trips by 2005.
BART recently hosted an open house and meeting about the planned 5.4-mile extension through Fremont to Southern Alameda County and a proposed station at Warm Springs. An optional station at Irvington is also being considered. In 2000, Santa Clara County voters approved a half-cent sales tax to pay for a 21.7 mile extension of the current Fremont line through Milpitas and San Jose to the Santa Clara Caltrain Station.
BART and Alameda County will jointly develop the north side of the Dublin/Pleasanton station into a transit center featuring 1,500 housing units, 1 million square feet of office space, a hotel and up to 30,000 square feet of retail.
Governor Davis' Traffic Congestion Relief program earmarked $7 million to study transit alternatives for the I-580 corridor, from Pleasanton to Livermore. BART staff has been working closely with the Alameda County Congestion Management Agency on the I-580 Corridor/BART to Livermore Study.
Beyond that, only time will tell. BART is already being looked at in various ways of consolidating transit needs in other parts of the Bay Area.
ONLINE RESOURCES
BART makes it easy to use the system with important rider information at www.bart.gov. The online BART QuickPlanner for the Palm is designed for frequent BART commuters and occasional riders alike. It has BART schedules to give you the best trip plans including station addresses and cross streets, trip plans with fare, station, train, and transfer details. Schedules can even be downloaded to PDAs.
The online BART Trip Plannerhas BART schedules, surrounding area maps of a station, as well as driving directions. Printed information is also available from BART or from the Hacienda Owners Association.
Another resource is MyBART, a free, customized e-mail service with special discounts on events that are easy to get to on BART. As a MyBART member, you can choose from among numerous event categories and receive customized e-mail on events you are interested in.
MORE FOR COMMUTERS
Getting to BART stations is easy with commuting conveniences provided for Hacienda employees and residents.
A free WHEELS shuttle runs from BART to Hacienda making commuting by train even more convenient and cost-effective. Anyone who lives or works in Hacienda is entitled to a free pass, which can be ordered from the "Order Materials" page on the Hacienda web site at www.hacienda.org .
The free Guaranteed Ride Home Program offers additional support to people using a transit alternative and assures them a ride home in the event of an emergency. Contact Hacienda for details on how to register.
Hacienda also has information on the financial incentive programs available through the Commuter Choiceprogram, which benefits both employers and employees by designating certain commuting costs as a pre-tax benefit. This program allows employees to purchase tickets with pre-tax dollars, providing one of the best discounts for BART tickets.
First Time Rider passes to encourage BART use are available through Hacienda. Call (925) 734-6500 for information or apply online.
Hacienda also provides information on transit services that serve the park. These include buses, carpooling, vanpooling, walking and bicycling. Paratransit Service is also available through WHEELS buses and the City of Pleasanton.
For more information about BART, call (925) 676-BART (676-2278) or visit www.BART.gov .
Also in this issue ...