August
August 21, 2001 | Volume 9, Number 8
Art Abounds in Hacienda and Pleasanton
By Denise Howe • Special to Network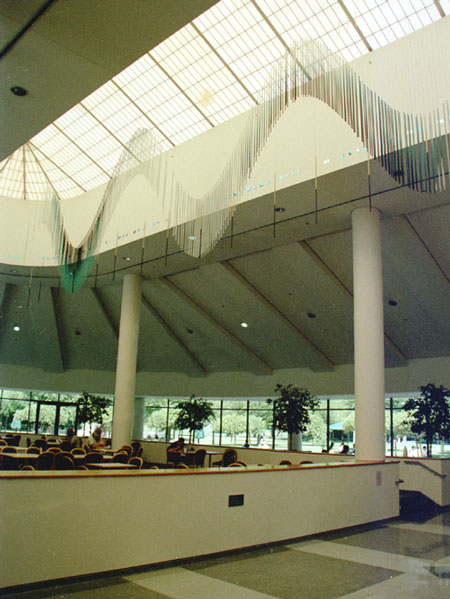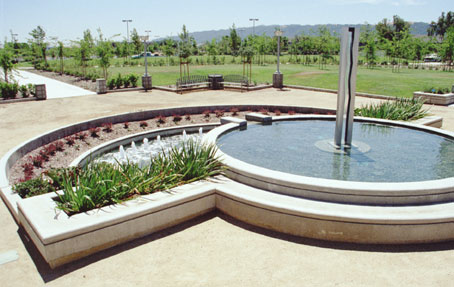 "Listen," a hanging sculpture by Larry Kirkland on display in the CarrAmerica Corporate Center, depicts a stylized sound wave.
As you drive through Hacienda, you will see sleek office buildings and bustling retail and commercial plazas all set amid a park-like background. What you may not see right away are several pieces of unique art. In Hacienda, beautiful and stately art, art in architecture, historical works, and art embodied within cooling lakes and shimmering waters can be found outside many of the buildings, complemented by art inside other facilities. Whether the designs are modern or traditional, all of these installations invite the public to interact with something outside of the business environment.
Permanent Art Installations
Hacienda has many permanent installations available to the public. Most are found conveniently located in plazas or lobbies adjoining primary building entries. A few others require a short walk to the areas in which the pieces are displayed.
o "Untitled," by Laddie John Dill, 1989, CarrAmerica Corporate Center, 4410 Rosewood Drive, in the center's entrance. Created in cement and glass, the flat three-paneled work in blues and grays is over 25 feet long and captivates the viewer's attention with its "earth from space" and "lunar rocks" look.
o "Eclipse," by Alan Shepp, 1989, CarrAmerica Corporate Center, 4410 Rosewood Drive, in the plaza courtyard. This sculpture, made from Sierra granite, is composed of several round disks and crosspieces that produce interesting shapes as you walk around it.
o
"Vanishing Edges" by Jesus Bautista Morales, 1989, CarrAmerica Corporate Center, 4410 Rosewood Drive, in the plaza courtyard (pictured at right). Two vertical polished Georgia gray granite towers, each with one edge of horizontal scoring every inch that reveals the craggy raw granite, invite touching.
o "Listen," by Larry Kirkland, 1989, CarrAmerica Corporate Center, 4410 Rosewood Drive, in the cafeteria. Look up and see colored glass arranged in a ring around the walls of the skylight. This is a Morse code message, an excerpt from "In Memoriam -W.G." by Alfred Lord Tennyson: "So many worlds, So much to do, So little done, Such things to be." The second part of the installation is a sculpture depicting sound waves.
o "Untitled," unknown artist, 1999, Britannia Business Center, 4155 Hopyard Road, near the back door of the building. Three tall, graceful, curved rust-color pillars face each other, giving the impression of three people standing outside having an interesting conversation. Ground lighting illuminates the group at night.
o "Untitled," unknown artist, 1984, Amador Two, 4480 Willow Road, near the entrance to the building. An interesting dark brown sculpture composed of a large round disk and a vertical piece giving the illusion of stair steps.
o Hart Middle School, Music building, 4433 Willow Road. Representing architecture as art, whimsy prevails here where the music building is shaped like the outline of a grand piano. The inside room is partially illuminated by light shining from the outside open-air courtyard through blue glass block windows set into the walls at what look like random patterns but are, in fact, musical notation for the beginning strains of "America the Beautiful." Out in front of the school, the linear black wrought iron fence has an upbeat wavy ribbon pattern design. To visit the school, check in at the front office.
Art History
Two locations offer a slightly different perspective in Hacienda. See how these stops bring art and history together.
o Photographs, Wells Fargo Bank, 4767 Hopyard Road, inside the building. Large format enlargements of historic photos depicting a small-town Wells Fargo office and the trademark stagecoach hang around the inside walls of the bank.
o Documents, Gale-Schenone Hall of Justice, 5672 Stoneridge Drive. More than a dozen framed exact replicas of hand-written historic documents donated by the local Exchange Club line the walls on both floors for this mini history tour. You'll find the Declaration of Independence, the German Instrument of Surrender for World War II, the Emancipation Proclamation, the Mayflower Compact, the Gettysburg Address, the lyrics of the "Star-Spangled Banner," and more.
Art and Nature
Hacienda is filled with landscaped areas that add to the tranquil, peaceful atmosphere of the park. Many have incorporated special fountains and statuary that meld art and nature into something new. Nearby lawn and benches make these a nice stop for a lunchtime break.
o CarrAmerica Corporate Center, 4410 Rosewood Drive. Feel as if you're in Yosemite looking at one of the smaller falls as you stand before this massive fountain composed of many giant granite blocks set on a round platform. The fountain and water look different from every angle as the shadows and weather change. The sound of the pounding water is awesome. Designed by David Gates & Associates.
o Cisco, 5880-5890 Owens Drive (pictured at left) . Between the buildings in a large courtyard is a multi-level fountain. Water slides down the thin, vertical stainless steel and glass sculpture atop the fountain, then streams down into a pond from where it tumbles down a waterfall into the lower pond that is lined with cobblestones with 10 small geyser fountains. The fountain is lit at night. Benches nearby and places on the fountain edge provide seating. Designed by Randall Planning & Design.
o PeopleSoft Plaza, 4301 - 4309 Hacienda Drive. Water cascading over steps creates a ripple effect in the fountain lined with pink tile at 4301 Hacienda Drive. Twelve geyser fountains rain water into a large triangular pond lined with three shades of blue ceramic tile at 4305 Hacienda. Water pours over the large vertical silver column into the gray-tile pool below at 4309 Hacienda Drive. Designed by POD.
o Hacienda Lakes, 4457-4473 Willow Road. Three small tranquil lakes edged with Japanese-style landscaping are bordered with large boulders, bushes and flowers and shaded by lacy weeping willow trees. One lake has a footbridge. Fountains in each lake are lit at night by underwater lights. Designed by David Gates & Associates.
o Signature Headquarters, 4670 Willow Road. Surrounded by green lawn and shade trees in the garden courtyard is a shimmering white Italianate-style marble fountain with a stylized hourglass pedestal from which water cascades into the round pool below. Designed by Guzzardo & Associates, Inc.
o Hacienda West, 3825-3875 Hopyard Road. In the middle of a large, beckoning plaza, water spills out over a five-tier wedding-cake style clear glass-brick fountain, into the first fountain, a relaxing sight in the day or lit at night. From the pond, water flows down a falls into another pool centered with a geyser fountain. The imposing installation has a raised platform bench. Designed by David Gates & Associates.
o Gale-Schenone Hall of Justice, 5672 Stoneridge Drive. A round lighted fountain with a pool and four geysers is lined with blue tile and offers a pleasant place to sit. Designed by Hoffman Associates.
o Sunol Center II, 5673-5675 Gibraltar Drive. This 75-foot wide fountain in a curved C-shape has three pools and lots of interest. On either end are two smaller pools with geysers and, in the middle, a large pool with four geysers that send cascading water over the dark blue tile steps that form the focal point. The fountain edges form a place to sit. Designed by Hoffman Associates.
o Las Positas Office Plaza, 5976-5994 Las Positas Boulevard. Sea green slate tiles add interest and dimension to this fountain decorated with clear glass bricks. Three jets at the top shoot water skyward, which falls back onto the stair-stepped sides and flows to the lower pool. Nighttime lighting shines through the glass blocks. Designed by David Gates & Associates. o Rinconada One, 5956 -5964 W. Las Positas Boulevard. A large round pool fountain with small geysers has steps that invite you to get closer to hear the lapping water sounds. Sit along the edge. Designed by David Gates & Associates.
Primary Community Installations
Art abounds in Pleasanton. The city is filled with a number of important installations that are a feast for the eyes. Here is a selected listing of some of the major works that can be found in town.
o "Pleasanton Centennial," Civic Park, Main Street at Bernal Avenue.
o Pleasanton Tulancingo Mural, City Hall, 200 Old Bernal Avenue. The building is currently closed for renovations and will reopen in several months.
o "Leap," "Once Upon A Time" "Girl Reading" Pleasanton Library, 400 Old Bernal Avenue. o "Yak," "Albus," "Sing a Song of Sixpence" and reflecting pool, Centennial Park and Pleasanton Senior Center, 5353 Sunol Boulevard.
o "Pat's Bench," Kottinger Park, Kottinger Drive near Adams Way.
Two more projects are currently in progress, at the Dolores Bengtson Aquatic Center on Black Avenue, and the entrance to the Pleasanton Sports and Recreation Park on Hopyard Road.
If you would like more information about public art projects in the City of Pleasanton, contact Andy Jorgensen, community services manager, at (925) 931-5347.
(We've done our best to find all the public art installations in Hacienda. If we've missed any, please call Jay Hipps at 925/734-6540.)
Also in this issue ...