July
July 16, 2002 | Volume 10, Number 7
Hacienda has Services to Suit Your Needs
By Hacienda Pulse Staff Writer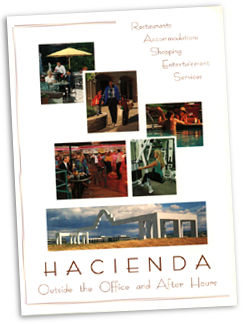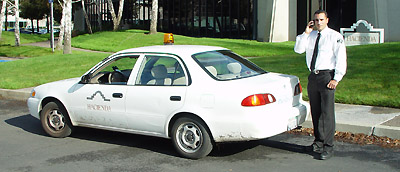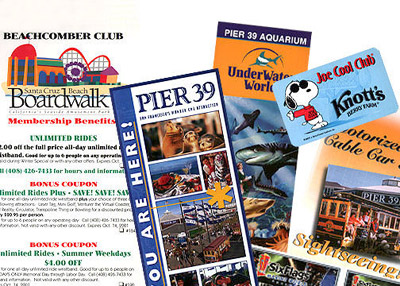 Location is the prime criteria for picking where you want to live and where to do business. However, "location" often has less to do with where an area is found on a map and more to do with the amenities that transform it from an address to a destination. Fortunately, the employees and residents of Hacienda are blessed with a prime geographic location as well as the comforts and services that make the development a world-class place to live and work.
If you're new to Hacienda, you might be surprised at the number of services available to you on site. If you've been around a while, you'll want to keep abreast of new and improving amenities. In either case, Hacienda provides online and printed resources (described at the end of this guide) that serve as catalogues of the services and benefits available to those who live and work in the park. These materials can let you in on details and special offers ranging from transit to community events to entertainment to security.
Out and About: Services for Business and Pleasure
One of the biggest benefits enjoyed by the employees and residents who call Hacienda their home is the sheer number of services offered by their neighbors within the Hacienda community. Whether you're trying to locate a hotel for a visiting client or a print shop that can produce your corporate press kit, you can be sure you'll find it conveniently located near your own Hacienda home or business. If you're interested in getting acquainted with other companies doing business at Hacienda, you'll find a complete alphabetical listing with phone numbers and addresses on the Hacienda web site.
Getting Around: Transportation
Whether you drive, ride public transit, or ride a bicycle to get to your destination, the Hacienda Transportation Program offers the transportation resources and information you need. Some 18,500 employees and residents make their way to Hacienda each day and an additional 4,000 residents commute in and around the park. Hacienda wants to make your commute as easy as possible.
Services offered include a transit subsidy provided for the local WHEELS bus lines. The subsidy funds passes which are provided to park tenants and residents free of charge. When a park employee or resident boards a WHEELS bus, they show the driver their pass which allows them free access to the bus.
WHEELS buses run throughout the Tri-Valley area to several locations in Hacienda, and WHEELS I-680 express bus service provides a direct link for people commuting to or from the Concord/Walnut Creek area. WHEELS buses also meet all incoming BART and ACE trains during the peak commute hours to shuttle Hacienda employees to their business or to the train. During off-peak commute hours WHEELS DART service shuttles Hacienda employees to the BART station as well as other destinations on demand. Pass holders can also travel on any of the lines to other locations.
Other transit benefits include first-time rider promotions like free passes for BART, the ACE commuter rail, and SMART buses. Hacienda also works closely with the RIDES carpool program for Bay Area commuters giving residents access to the region's largest commuting database.
Playing it Safe: Security
Hacienda Security Officers patrol the community 24 hours a day to help keep employees and residents safe and the area secure. Hacienda Security answers requests for help from any employee, tenant, or property manager, and is available to investigate loitering, suspicious activities, trespassing, solicitation, parking control, unauthorized uses, vandalism, theft, tenant complaints, unsecured areas and damaged property. In all of these instances, Security Officers can respond on behalf of a requesting party to address issues of concern or investigate a reported problem. Security Officers will then report their findings to the requestor or take appropriate follow-up action.
Under Hacienda's Supplemental Security Program, available free of charge to Hacienda businesses, security officers perform two pass-by site surveillance patrols and one perimeter door check each night after normal business hours.
Special Offers and Discounts
Being a part of the Hacienda community gives you financial benefits as well. Working in conjunction with local attractions and Hacienda businesses, the park has secured a number of discount offers for tenants and residents. Discount tickets available to the Hacienda community include Pier 39, Six Flags Marine World, the Santa Cruz Beach Boardwalk, and Knott's Berry Farm. A number of businesses within the park have also extended discounts to Hacienda residents and packages of discount coupons are available on request .
The Hacienda Service Program
An amenity can be defined as a feature of a location that makes life easier or more pleasant. Hacienda's Service Program strives to make your day to day life as effortless and productive as possible with numerous amenities that include online information resources, discounts, and special offers. Online resources include Hacienda's web site and the Hacienda Online! free email subscription service, through which you can have news and information about Hacienda sent directly to your computer desktop. Hacienda Online! services let you receive the Hacienda Network newsletter electronically; receive information about park activities, events, and special offers available to Hacienda residents via email; and receive local and regional news about this dynamic and exciting East Bay community.
Whether you're looking for a new car, child care services, or the nearest gym, an orientation package and the Hacienda web site probably have the information you need. The package and website are both updated periodically, so both newcomers and longtime residents are bound to discover services and resources that will make their stay at the park comfortable and productive. Here is a brief overview of a few of the materials you'll find on the Hacienda website and within the orientation package:
The orientation package includes a directory of restaurants, accommodations, shopping, entertainment, and other services that you can use as a roadmap to fill your own personal needs while you're on site. Within an information supplement called "Outside the Office and After Hours," you'll find maps, names, addresses, phone numbers, and directions to Hacienda's service establishments.
The full range of transportation options available to the residents and employees of Hacienda are outlined in the orientation package and covered in more detail online in the Transportation section of the Hacienda web site. Details about transportation options, as well as information on a number of different van pools, can be found in the orientation package, along with order forms to help you sign up for the various programs and passes.
The orientation package provides you with details on how to contact Security through the Security Message Center at (925) 734-6520, as well as information on the services you can expect from the security force. A form for requesting enrollment in the Supplemental Security Program is also included.
Discounts and special offers for local businesses and attractions are detailed in both the orientation package and on the Hacienda web site.
The orientation package as well as the maps, business listings, transit, and other information that comprise it is available in any quantity you need to fit your individual or corporate needs. To acquire these materials, contact the Hacienda Owners Association office by any of the following means:
Visitors welcome Monday through Friday, 9 am to 3 pm 4473 Willow Rd, Suite 105 (east building entrance), Pleasanton, California 94588-8570.
(925) 734-6500 (phone) (925) 734-6501 (fax)
For pre-recorded information and automatic phone ordering: (925) 734-6550 (Main) (925) 734-6551 (Transportation) (925) 734-6552 (Security) (925) 734-6553 (Business Services) (925) 734-6554 (Amenities) (925) 734-6556 (Development) info@hacienda.org (e-mail)
Also in this issue ...