June
June 18, 2002 | Volume 10, Number 6
Hotels in Hacienda
By Hacienda Pulse Staff Writer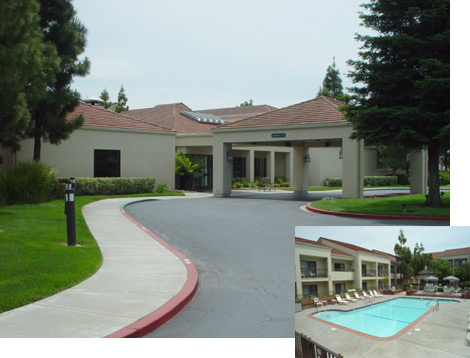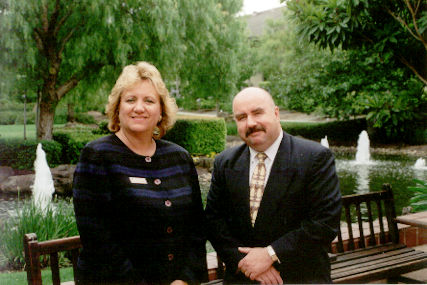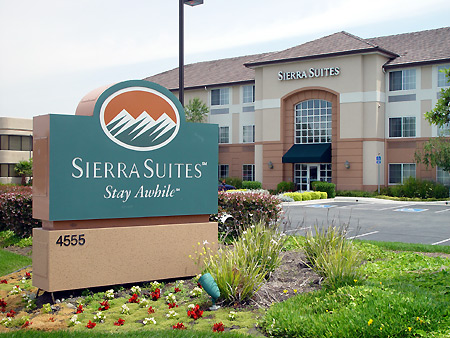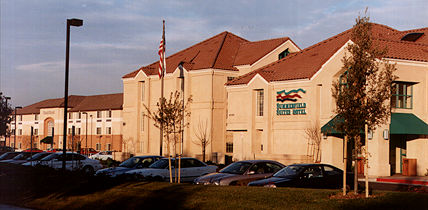 "Travelling on business" is something that sometimes sounds better than it really is. A nice hotel for your business travel can make all the difference, however. Hacienda has several convenient lodging options, with four hotels that offer a total of over 600 rooms and suites ranging from the practical to the fanciful. Here's our Hacienda Hotel Directory.
Courtyard by Marriott
5059 Hopyard Road (925) 463-1414 www.courtyard.com
Hacienda's Couryard by Marriott has 145 guest rooms and 14 suites, along with two meeting rooms totalling 1,250 square feet.
Each room at the spacious hotel features amenities designed to make life easier for the business traveler, including a work desk, two-line phone, speaker phone, voice mail, data ports, and high-speed internet access provided by STSN. Rooms also feature cable/satellite TV, in-room movies, complimentary in-room coffee, iron and ironing board, hairdryer, and a newspaper delivered to your room Monday through Friday.
Hotel services include an on-site restaurant, dinner delivery service from local restaurants, a laundry valet, and self-service laundry facilities.
It's not all business, however. There are a number of great features to aid in rest, refreshment, and relaxation, including an outdoor pool, a full spa, an exercise room, and even a whirlpool.
Courtyard by Marriott is currently offering "Come Out and Play," a program offering great weekend rates available from now through September 2. Make reservations before June 28 to take advantage of this offer, which provides an average 20 percent discount off the hotel's typical weekend rates.
Four Points/Sheraton
5115 Hopyard Road (925) 460-8800 www.sheratonpleasanton.com
The Four Points is a full service hotel with 214 newly-renovated oversized guest rooms with balcony or patio. The rooms come with either one king- or two queen-sized beds, along with many features desired by business travellers such as three phones with two separate lines, voicemail, and high-speed Internet access.
There are meeting and banquet facilities, an outdoor courtyard with a beautiful view of water fountains, and landscaped gardens suitable for business meetings, weddings and parties. In all, the facility offers 17 meeting rooms totalling 7,500 square feet, with individual meeting rooms ranging from 364 to 2,330 square feet. These facilities can accommodate groups up to 300 people while the outdoor courtyard can serve up to 175 people. Full banquet catering services are available.
There is an Olympic-sized swimming pool and spa. Room service and poolside service is provided by Faz America restaurant and lounge, which shares the site with the hotel.
Through the end of the year, the Four Points is offering a weekend Birthday/Slumber Party Package for families. Your child and three friends can bring their sleeping bags and camp out in their own room while parents enjoy the privacy of a separate adjoining room. The package also includes birthday cake, pizza and soft drinks, and one pay-per-view movie. Call (925) 469-5949 for further details.
Sierra Suites
4555 Chabot Drive (925) 730-0000 www.sierrasuites.com
Sierra Suites can be used as a traditional hotel but specializes in serving guests who need an extended stay. The hotel offers value discounted rates to the guest who stays five nights or longer, or takes advantage of their weekend packages by staying on a Friday or Saturday. It's an ideal option for clients relocating to Pleasanton, employees involved in corporate training programs, and workers on temporary assignment.
The hotel's 112 units feature open studio suites with TV and sofa-sleeper and suites with queen-sized beds. Each suite has complete office amenities, including two phone lines, personal voice mail, speaker phone, copy/fax service and high-speed internet access with daily, weekly or monthly rate plans.
The creature comforts don't stop there, though. Each suite offers a full kitchen with coffee maker, a separate bath and vanity with hair dryer, and an iron and ironing board.
Sierra Suites also offers guest laundry service, a 24-hour gourmet coffee bar, complimentary continental breakfast, an exercise room, outdoor pool, and a courtyard patio with barbeque grill. Non-smoking and wheelchair accessible rooms are available upon request.
Summerfield Suites
4545 Chabot Drive (925) 730-0070 www.summerfieldsuites.com
Summerfield Suites offers a total of 128 one bedroom and two bedroom suites, all designed with the business traveler in mind.
A one bedroom suite comes with full desk, separate phone line with private voice mail and data ports, private bath, TV, and a full kitchen. Two bedroom suites have two bedrooms and two bathrooms (each with its own bath and shower) and all the amenities of the one bedroom suites. The bedrooms are joined by a common living area and kitchen, saving one the cost of booking two hotel rooms.
Hotel services include a complimentary daily breakfast buffet, newspaper, Monday to Thursday social hour, a grocery shopping service, on-site movie rental, and an on-site 24-hour convenience store. The hotel also operates a complimentary shuttle to and from local offices. Guests can also enjoy the hotel's SportCourt, pool, and spa.
Summerfield Suites has meeting facilities, which include standard amenities like phones with speaker/conference call capability and whiteboards. Extra items such as audio/video equipment, catering, and flip charts are available for a fee.
Summerfield has a summer special for the weekends called, "Hot Rates for Hot Nights." These rates are discounted off of the normal weekend rates and are good for Friday or Saturday nights throughout the summer months.
Also, members of the free Wyndham By Request program receive free local and domestic long distance calls, high speed Internet access, and faxes and copies.
Also in this issue ...