April
April 19, 2005 | Volume 13, Number 4
Downtown Pleasanton: An Attractive Destination for Residents and Visitors Alike
By Hacienda Pulse Staff Writer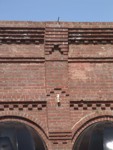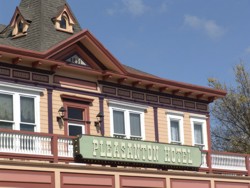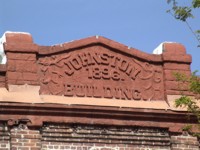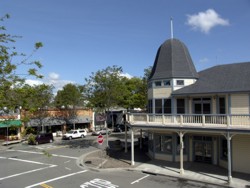 Published April 19, 2005 Volume 13, Number 4
While Pleasanton is a community with many diverse components, including a state-of-the-art business district, great neighborhoods, nationally recognized schools, and terrific amenities, it's also got a heart: Downtown. Downtown is the heart of Pleasanton. Downtown Pleasanton offers a delightful mix of historic sites, world-class eateries, shopping areas, and some of the best events in the Tri-Valley. Downtown is home to more than 500 businesses that include antique stores, real estate offices, banks, hair salons, clothing stores, restaurants and just about any other urban attraction you can imagine, while maintaining the character and feel of a small-town.
"Downtown Pleasanton is a wonderful place that hosts a myriad of shops and restaurants, many of which are owned and run by families that live here," says Pleasanton Mayor Jennifer Hosterman. "Strolling through downtown is an experience in and of itself. The architecture of the buildings says 'wild west', but many of the businesses and restaurants rival those of any big city, offering a host of exciting goods, and providing an atmosphere where people can gather. It offers everything one could want in a downtown area."
Downtown Happenings
"Downtown is our community jewel," says Nelson Fialho, Pleasanton's city manager. "It distinguishes us from surrounding communities by being more than just a shopping district. It's a community gathering place and a great place to spend time with family and friends. We are fortunate to have merchants and residents that are committed to its success." Downtown plays host to a variety of weekly and seasonal special events that are sure to pique your interest. This guide can be used as a starting point in planning your next visit to Pleasanton's bustling downtown.
The Downtown Farmer's Market
The Pleasanton Farmer's Market is open every Saturday, rain or shine from 9 a.m. to 1 p.m. Shoppers will find farm-fresh produce, fresh-cut flowers, herbs, and specialty foods on Angela Street, between Main and First Streets. Afterward, browse the shops and stop for lunch at one of the 40 great restaurants.
1st Wednesday Street Parties
Live bands fill the air with music and local restaurants fill your stomach on the first Wednesday of each month throughout the summer from 6:00 pm to 9:00 pm. Pleasanton and Tri-Valley businesses show off their wares. Livermore Valley Wineries, Pabst Brewing Company, Trumer Pils Brewery, and Main St. Brewery will be showcasing their specialties in the Beer Garden in Roundtable Pizza Parking lot on Main St. This event draws 7,000-8,000 people per evening on Main Street between St. John Street and Old Bernal Avenue. This year's themes are:
May 4th - Cinco de Mayo Celebration, featuring the band Cantera June 1st - Island Time, featuring the band Red Di July 6th - Rock n' Roll 50's Style, featuring the band Magic Moments August 3rd - Wednesday Night Fever, featuring the band Night Fever Band September 7th - Back to School Blues, featuring the band Just Truckin'
Friday Concerts in the Park
These concerts take place every Friday, June 3rd through September 2nd from 7:00 pm-8:30 pm at Lions Wayside Park on the corner of First and Neal Streets. Enjoy live music ranging from blues, reggae, swing, disco, latin, and rock. Children dance in front of the bandstand, and expert picnickers start hours before the concerts begin. Concerts include:
June 3 - Silicon Valley Houserockers, Rock June 10th - The CoolTones, Swing/Big Band June 17th - Night Fever band, Disco/R&B June 24th - Blair Hansen, Pop-Acoustic/Rock July 1st - Just Truckin', Blues July 8th - Midnight Hour, Soul/R&B/Swing July 15th - Night Shift, Pop/Dance July 22nd - Blue House, Pop-Acoustic/Rock July 29th - Star Celebrations, Disco/R&B August 5th - Burton & Company, Blues August 12th - Red Di, Reggae August 19th - Cantera, Latin Rock & Soul August 26th - Magic Moments, 50's Rock n' Roll Sept. 2nd - Public Eye, Dance Tunes
Pleasanton Heritage Festival
On September 24th and 25th from 10am to 6pm, Main Street in downtown Pleasanton hosts hundreds of fine arts and crafts vendors. Up to 20,000 people visit downtown during this popular weekend event.
Inside Out Sidewalk Sale
Over 20 retailers and businesses in the downtown district will showcase their wares on the sidewalk in front of their business. This event is held twice a year, April 16th and 17th from 10 to 5pm and September 10th and 11th from 10 to 5pm.
Wine Stroll
On Thursday, July 21st from 6:00 pm to 9:00 pm, businesses throughout downtown will offer Livermore Valley Wines for you to taste and experience, while many of the downtown restaurants provide food pairing.
Antiques Faires
On Sunday, May 29th and Sunday, October 9th from 8:00 am to 4:00 pm, attend one of the largest outdoor antique fairs in California. This event is for purists; only antiques are allowed. No crafts, just the real deal! Over 400 dealers make this one of the best antique shows anywhere.
Downtown's Magical Evening
Join the businesses in historic downtown Friday, November 18th from 5:00 pm to 9:00 pm as they kick off the holiday season.
Hometown Holiday Celebration
The City of Pleasanton holds its annual Holiday Parade beginning at 4:00pm on Main Street on Saturday, December 3rd, followed by the official tree lighting by Pleasanton's Mayor. Many retailers are open during the evening for holiday shopping.
Historic Downtown Pleasanton
While Downtown Pleasanton offers a wide variety of entertainment and dining options, history buffs will want to investigate Downtown Pleasanton's historic buildings, representing a variety of architectural styles. For example, The Pleasanton Arch across Main Street, one of the most recognizable sights of downtown, was built by the Women's Improvement Club in 1932 for $532 and was topped with police and fire horns. Today, it is one of the few original town gateway signs remaining in California.
The Museum on Main Street, supported by the Amador-Livermore Valley Historical Society, is located at 603 Main Street, Pleasanton. It is in the former town hall that was constructed in 1914 with funds raised by the Pleasanton Women's Improvement Club. As the city offices moved to other buildings in town, the Museum found a new home in 1984 in the fully renovated building. Over 12,000 people visit the museum each year, in addition to the 5,000 Pleasanton schoolchildren who visit for an interpretive talk and tour. The museum offers local and regional history exhibits, history lecture series, special events and parties, member events, community projects, walking tours, a photo and document archive, historical research, a history library, a museum shop, an art gallery, a student education program, volunteer programs, and a newsletter. The museum's phone number is (925) 462-2766.
For those fascinated by architecture's place in history, the Pleasanton Downtown Association, architect and local historian Charles Huff, and the Amador-Livermore Valley Historical Museum have created a Downtown Walking Tour map filled with photos and more than 60 history vignettes. It can be found online at http://www.pleasantondowntown.net/pdfs/WalkingTourGuide.pdf . Downtown Pleasanton's historic sites include:
288 Main Street, built in 1854, was the first commercial building in town and housed a general store, bar, and Wells Fargo stage stop. 450 Main Street, Arendt Commission House. This brick Italianate building was completed in 1893 and was extensively renovated in 1984. 520 Main Street once housed Dall's Harness and Saddlery and local lore tells of a female ghost in a blue Victorian dress at that location. She is always seen, they say, on a Saturday morning. 600 Main Street was once the Pinklet Tin Store, a hardware emporium that was constructed around 1899. 641 Main Street, the former New Lincoln Theater and Roxy Theater. Constructed in the 1940s in the Mission-Revival style, it still has the rear stage door entrance outside, and, inside, the backdrop from the old theaters. 706 Main Street, the former Schneer Mortuary. The walkway to the right of this 1904 Mission-Revival building was used to park the hearse. 749 Main Street, the second Safeway grocery store. The Pleasanton chain's second store was located in this Modern-style building constructed in 1938.
The Pleasanton Downtown Association
The Pleasanton Downtown Association is a community of dedicated individuals and business owners. Through cooperative efforts, community events, and activities in the downtown area, the Association strives to make the Downtown area a rewarding place to visit and to shop. The PDA's five committees - organization, design and beautification, marketing, promotions, and downtown vitality - serve the needs of the business district. The committees and sub-committees, under the leadership of President Mike Madden, are comprised of dozens of PDA members, property owners and city residents, and create a forum for maintaining cultural and economic vigor. "Downtown Pleasanton is known for its fabulous restaurants and great shops, but it's also a full-service area where you can find just about anything you need, including veterinarians, dentists, architects, and others offering professional services," says Christine Salidivar, Executive Director of the PDA. "It's not only a destination for Pleasanton residents but for people from other nearby cities as well."
If you'd like to support the Downtown area but don't have a business there, the PDA offers an Associate Member program that allows businesses located outside downtown to join the group. Associate Members are entitled to a number of benefits, including the opportunity to promote their businesses with a booth at the 1st Wednesday Street Parties. For information on becoming an Associate Member or to learn more about Downtown Pleasanton, visit the Pleasanton Downtown Association's web site at www.pleasantondowntown.net or call the PDA office at (925) 484-2199.
Also in this issue ...