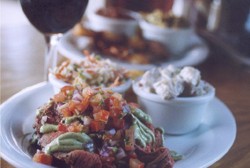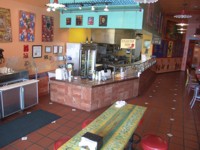 Everyone loves a good meal. Whether you're looking for a quick snack, a delicious lunch, or a fancy dinner to celebrate closing a big deal, Hacienda's 30 restaurants provide an incredibly wide variety of food and drink. Here's our directory of Hacienda restaurants:
(Note that all phone numbers are in the 925 area code)
Amelia's Deli/Bistro 4825 Hopyard Road #2 734-8444 Mon.-Fri. 7:00am-5:00pm, Sat. 10:30am-3:00pm
Everything in this eclectic lineup of gourmet food is made from scratch on the premises. At breakfast, Amelia's offers bagels, house-baked scones, muffins, rolls and sweet breads, along with specialty coffees and other beverages. For lunch, gourmet salads include taboulleh and curried turkey, a variety of deli sandwiches, soup and sandwich or salad combos, and house specialty sandwiches. Catering, party trays, and restaurant rental for special parties are available.
Arby's 5900 Owens Drive 467-1912 www.arbys.com Mon.-Sat. 10:00am-10:00pm, Sun. 10:00am-9:00pm Arby's offers roast beef specialty sandwiches, salads, chicken sandwiches, curly and home style fries, sides of mozzarella sticks, jalapeno bites and onion petals, desserts, and beverages. Drive-through service is also available.
Aura 4825 Hopyard Road #10 416-0777 www.nightclubaura.com Wed.-Sun. 6:00pm-2:00am Opening in mid-July, the Aura nightclub will offer small plate cuisine along with specialty drinks and a fabulous wine list, combined in a stylish, upscale setting. Also available for private events.
Baci Seafood and Steak 4889 Hopyard Road 469-6266 Mon.-Fri. 11:30-3:00 lunch, 3:00-6:00 happy hour, 5:00-10:00 dinner Sat. 5:00-10:00 dinner; Sun. 10:00-3:00 brunch, 5:00-10:00 dinner With a name like "Baci Seafood and Steak," it's pretty clear what the specialties of the house will be. Baci uses only the best local and regional ingredients, including prime cuts of beef and fish delivered fresh daily, to create a delicious culinary experience.
Big Apple Bagels 4555 Hopyard Road #13 460-3737 www.bigapplebagels.com Mon.-Fri. 5:30am-4:00pm, Sat. 6:30am-3:00pm, Sun. 6:30am-2:00pm Big Apple Bagels serves breakfast with bagels, muffins, coffee cakes, pastries and specialty coffees. For lunch there are fresh sandwiches, soups, deli subs or you can build-your own sandwich. Big Apple also serves up party platters.
Borders Cafe 4575 Rosewood Drive 227-1412 www.borders.com Mon.-Sat. 9:00am-11:00pm, Sun. 9:00am- 9:00pm Borders Cafe offers up coffee, snacks, and sandwiches to keep away the hunger while you read or study.
Carl's Jr. 4555 Hopyard Road #25 460-8050 www.carlsjr.com Mon.-Fri. 6:30-10:00, Sat. 7:00am-10:00 pm, Sun. 8:00am-8:00pm Breakfast served until 10:30 daily Carl's Jr., has hamburgers, cheeseburgers, sandwiches, salads, fries, baked potatoes, onion rings, chicken sandwiches, desserts, a salad bar, and kid's meals. Breakfast, including a low-carb breakfast bowl, is served each day. Eat in or take out.
Chevys 5877 Owens Drive 416-0451 www.chevys.com Mon.-Thurs. 11:00am-10:00pm, Fri. 11:00am-11:00pm, Sat. 10:00am-11:00pm, Sun. 10:00am-10:00pm Chevys offers a full range of appetizers, big salads, quesadillas, burritos, flautas, and fajitas. Create your own combos with two or three favorites like enchiladas, tacos, chili relleno, or tamale. Come on Saturday and Sunday mornings between 10:00am and 2:00pm and enjoy Chevys brunch menu. Chevys also offers a full bar.
Chili's 4801 Hopyard Road 734-0911 www.chilis.com Sun.-Thurs. 11:00am-11:00pm, Fri. and Sat. 11:00am-midnight, happy hour 3:00-6:00pm weekdays Begin with Chili's starters like a hand-battered fried onion, chicken wings, and fried cheese. For dinner, there are steaks, rib eye beef, grilled chicken, shrimp, ribs and fajitas, or a big Chili's salad. Try the tacos, pasta, quesadillas, soups, sandwiches, burgers, or Chili's famous baby back ribs.
Courtyard by Marriot 5059 Hopyard Road 463-1414 www.marriott.com Sun.-Thurs. 6:30-9:00am, Fri. and Sat. 7:00-10:30am The on-site Courtyard Cafe is open for breakfast daily, offering a full-service buffet as well as separate menu items.
Dream Dinners 5676 Stoneridge Drive 737-0448 www.dreamdinners.com Hours by appointment Dream Dinners is a professional-quality kitchen that offers recipes, ingredients, and clean-up to its customers, who assemble a dozen meals for cooking at home. As Dream Dinners says, "We plan, shop, chop and clean it and you create, heat and eat it."
Faz 5121 Hopyard Road 460-0444 www.fazrestaurants.com Mon.-Thurs. 6:30-9:30am, 11:30am-3:00pm, 5:00-10:00pm; Fri. 6:30-9:30am, 11:30am-3:00pm, 5:00-11:00pm; Sat. 7:00-11:00am, 11:30am-2:30pm, 5:00-11:00pm; Sun. 7:00-9:30am, 10:00am-2:30pm, 5:00-10:00pm Faz offers fine dining in an elegant but relaxed setting, specializing in Mediterranean cuisine including dishes prepared using a smoker and wood-burning oven. Specialties include a Mediterranean sampler platter, mesquite-rolled chicken, and beef kabob with saffron basmati rice. Faz America has a full bar and offers complete off-site catering packages and on-site facilities for weddings.
Food and Beverage 5696 Stoneridge Drive 463-2556 Mon.-Thurs. 7:00am-10:00pm, Fri. 7:00am-11:00pm, Sat. 9:00am-10:00pm, Sun. 9:30am-9:00pm Food & Beverage is a full-service convenience store one hour photo processing, balloons and gifts, premium brand liquors, beer and wine, pastry, a yogurt bar, and ready-made sandwiches.
Hasegawa Japanese Cuisine 4855 Hopyard Road #6 734-0996 Mon.-Fri. 11:30am-2:00pm and 5:30pm-9:00pm, Sat. and Sun. 5:30pm-9:00pm. Hasegawa has a fine dining atmosphere with a Japanese Tatami room. There is a well-stocked sushi bar and a menu with favorites like sukiyaki and tempura. Catering is available.
The Honey Baked Ham Company 4555 Hopyard Road #11 734-9418 www.ca.honeybaked.com Mon.-Fri. 10:30am-6:30pm, Sat.10:00am-5:00pm The Honey Baked Ham deli cafe offers lunch with a full menu of sandwiches, desserts, coffee, and drinks. Special occasion platters feature turkey, cheese, braided sandwiches, hors d'oeuvres, nibblers, veggies, relish, fruit, and bread. A combo buffet with a 8 pound ham serves 15. Take home a MealDeal with ham, salad, cheese, and cheesecake, a turkey breast or BBQ rib combo for the family's dinner.
Jamba Juice 4555 Hopyard Road #17 847-8525 www.Jambajuice.com Mon.-Fri. 6:00am-9:00pm, Sat. 7:00am-9:00pm and Sun. 8:30am-8:00pm Jamba means "to celebrate" and you can do that with juices and smoothies at Jamba Juice made from fresh strawberries, blueberries, raspberries, mangos, bananas, peaches and oranges. There are snacks, breads and soups. Phone-in your pick-up order for a meeting or party. Jamba caters with their fare and made-to-order smoothies for your party or event.
McDonalds (inside Wal*Mart) 4501 Rosewood Drive 463-3503 www.mcdonalds.com 8:00am-9:00pm seven days a week Visit the Golden Arches and enjoy McDonald's famous fries, hamburgers, chicken sandwiches, breakfasts, shakes, beverages, desserts, and extra value meals. This is the place for Happy Meals for the kids.
Red Robin 4503 Rosewood Drive 225-1755 www.redrobin.com Sun.-Thurs. 11:00am-10:00pm, Fri. and Sat. 11:00am-10:00pm Red Robin offers 22 different gourmet hamburgers including classics like the sauteed mushroom burger as well as more novel creations like the "Banzai Burger" with grilled pineapple rings. Entrees include fish and chips, Baja fish tacos, platters and rice bowls. Salads, pastas, soups and sandwiches round it out. For dessert, try mud pies, sundaes and cheesecake. The full bar has beer, wine and mixed drinks, non-alcoholic mocktails, as well as appetizers.
Red Smoke Grill 4501 Hopyard Road #2 734-0307
Mon.-Thurs. and Sat. 11:00am-9:00pm, Fri. 11:00am-9:30pm, Sun. 11:00am-8:30pm Red Smoke Grill serves up authentic Santa Maria style barbecue cooked over red oak. Choose from tri-tip, rotisserie chicken, baby back ribs, prawns, sandwiches, and salads. Beer and wine are served. Catering and a to-go menu are also available.
Roderick's BBQ & Seafood 5681 Gibraltar Drive 251-0610 www.rodericksbbq.com Mon.-Fri. 11:30am-2:00pm for lunch, Tue.-Thurs. 4:00-8:00pm dinner, Fri. and Sat. 4:00pm-9:00pm
Where can you find the best barbecue in the East Bay? According to readers of the East Bay Express, it's at Roderick's in Hacienda. Roderick's serves barbecued pork, chicken, and links cooked to perfection in a floor to ceiling smoker named Gabrielle. Other specialties include catfish, snapper, fried okra, and brisket as well as a variety of desserts.
Round Table Pizza 4855 Hopyard Road #1 847-0750 , Delivery 847-0752 www.roundtablepizza.com Sun.-Thurs. 11:00am-9:30pm, Fri. and Sat. 11:00am-10:00pm At Round Table Pizza, you'll fine appetizers like garlic parmesan twists and buffalo wings, and Caesar, garden salads, and salad bar. Create your own pizza with veggies, meats, sauces and crusts or select from specialty pizzas. You can pick up, have your order delivered, or eat on the premises.
Sendo Sushi 4555 Hopyard Road #5 227-9000 Mon.-Sat. 11:00am-2:30 and 5:00-9:30 Sendo Sushi is a traditional Japanese restaurant serving sushi, sashimi, udon, teriyaki, tempura and other specialties.
Starbucks 4555 Hopyard Road #15 468-0138 www.starbucks.com Mon.-Fri. 5:00am-8:00pm, Sat. 6:00am-8:00pm, Sun.6:00am-7:00pm Starbucks offers caffe latte, caffe mocha, espresso shots, drip-brewed coffee, Frappuccino blended beverages, cappuccino, cafe Americano, teas, and more. Condiment bar offers spices and sweeteners. Purchase whole bean coffees by the pound. Food includes muffins, scones, desserts, sandwiches, and salads.
Subway 4555 Hopyard Road #23 460-0707 www.subway.com Mon.-Sat. 8:00am-10:00pm, Sun. 9:00am-9:00pm Subway offers its famous sandwiches in different sizes with fillings of ham, turkey, roast beef, chicken, meatballs, and more. Look for the low-fat selections. Try the 6" classic subs and deli-style sandwiches. Salads, wraps, chips, cookies, desserts, specialty coffees, and drinks are also available. Call ahead to order for a crowd.
Sugandh Indian Cuisine 4515 Rosewood Drive #700 469-0511 www.sugandhindiancuisine.com Daily, 11:00am-10:00pm Sugandh Indian Cuisine serves a variety of Northern India menu selections as well as a delicious buffet lunch. From tasty appetizers like pakoras and samosas to your favorite Tandoori Indian dishes, curries, and other lamb, chicken, and vegetarian meals, Sugandh has something for everyone. Wine, beer and sodas are served. Catering is available.
Sweet & Savory Cafe and Bakery 5694 Stoneridge Drive 847-2911 www.sweetandsavory.com Mon.-Fri. 6:30am-4:00pm (Kitchen closes at 3:00) Sweet & Savory serves breakfast and lunch and makes almost everything fresh on the premises. Try the breakfast burrito, fried egg sandwich and freshly-baked pastries. Lunch menu includes grilled sandwiches, soup, pizza, and a sandwich selection, with daily specials listed on their web site. Salads and desserts are also on the menu. The cafe offers full catering with appetizers, platters, entrees, desserts, breakfast and salads.
Sweet Tomatoes 4501 Hopyard Road #1 463-9285 www.sweettomatoes.com Sun.-Thurs. 11:00am-9:00pm, Fri. and Sat. 11:00am-10:00pm
Sweet Tomatoes, a buffet restaurant, is known for its wide variety of fresh salads like won ton chicken happiness, ranch house BLT with turkey, and Caesar salad asiago. Soups offered include tomato onion, turkey noodle, vegetable, and more. Enjoy hot chili, baked potatoes, pizza, muffins, hot pasta with sauces, fruits, desserts and beverages.
Taqueria El Balazo 4515 Rosewood Drive #600 734-8226 Daily 10:00am-9:00pm
Taqueria El Balazo offers authentic Mexican food such as tacos in singles or in platters, burritos with steak, pork and chicken, including chicken mole, super and vegetarian burritos, seafood enchiladas, salads, and platters, salads, nachos and sandwiches, entrees, and appetizers. There are side orders, drinks and a full child's menu. A full catering service is ready to serve you.
TCBY Yogurt 4747 Hopyard Road #5 847-8229 www.tcby.com Mon.-Thurs. 11:00am-9:00pm, Fri. and Sat. 11:00am-10:00pm, Sun. 12:00-9:00pm Cool off on hot summer days with cold treats from TCBY Yogurt including soft yogurt, ice cream, cakes, desserts, pies, smoothies, and shakes. The newest item on the menu is TCBY's frozen yogurt cakes and deep-dish pies. Take home a half-gallon of hand-packed ice cream or a wonderful frozen dessert.
The Cheese Steak Shop 4825 Hopyard Road #20 734-0293 waiter.com/cheesesteak Mon.-Thur. 10:00am-8:00pm, Fri. 10:00am-9:00pm, Sat. and Sun. 11:00am-8:00pm The Cheese Steak Shop lets you select from Philly cheese, pizza cheese, plain, barbecue cheese, chili pepper cheese, bacon cheese, and other sandwiches. Choose from eight chicken and cheese sandwiches or try the Hoagies, Italian, ham and cheese, salami, cappicola and layered cheese. There are vegetarian and ham sandwiches along with sides and drinks. Orders may be placed using their web site.
Also in this issue ...