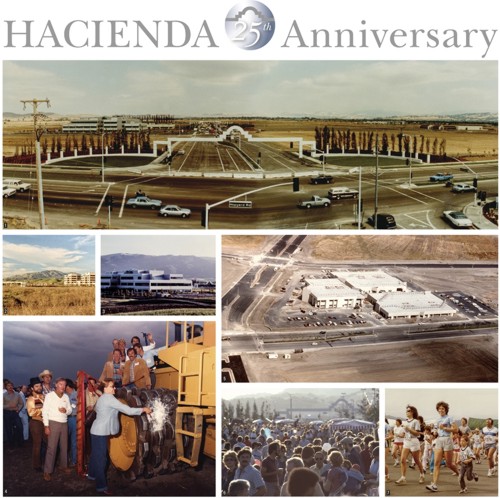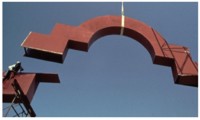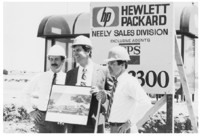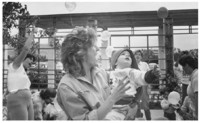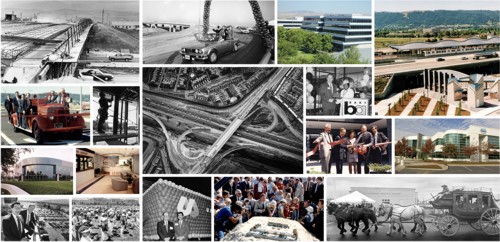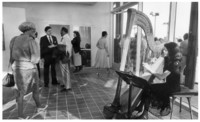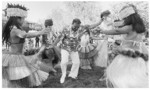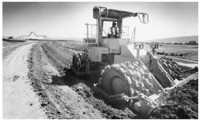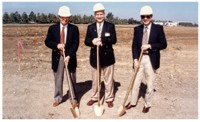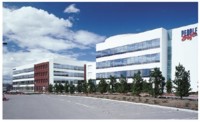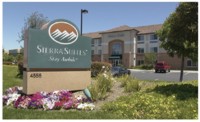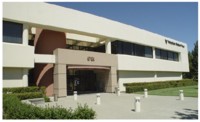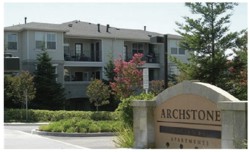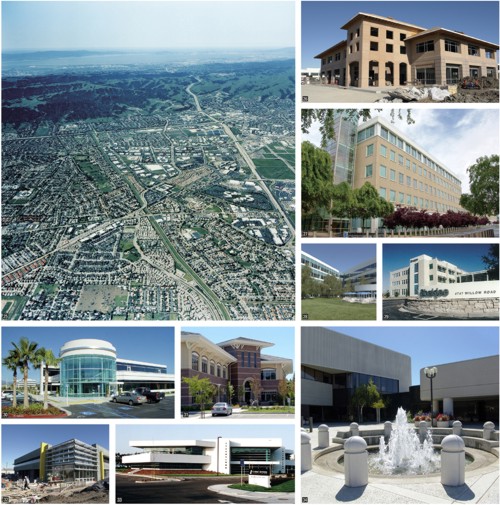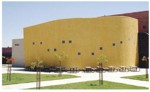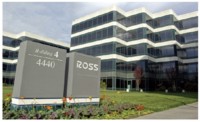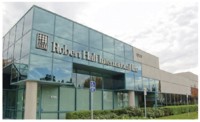 First ordinance passed approving the first phase of Hacienda
Phase I sites created
Hacienda Business Park Owners Association created
Chabot Center occupied
Amador Centers approved
Associates Center approved
Willow Center approved
1983
Hacienda Transportation Service created
Moveable feast celebration guided tour of in tract improvements
Second ordinance passed approving the first phase of Hacienda
Hacienda Master plan receives merit award
1984
AT&T comes to Hacienda from San Francisco
Hacienda receives community award
Developers of Hacienda complete flood control improvements
Hacienda hosts first annual Soccer City Run
I-580 and I-680 interchanges scheduled for improvements
Hewlett Packard breaks ground
Hacienda welcomes Sheraton and Velvet Turtle
Associates Center hosts Grand Fiesta
Stoneridge Drive widening complete "I've been asked where the name 'Hacienda' came from and why the arches. During our pre-acquisition due diligence, we noticed that much of the land in the Tri-Valley had originally been acquired by individuals in the early 19th Century via Spanish land grants. Underlying title maps still reflected some of these grants and the haciendas related to them. Thus, the name. While it's hard to imagine today, you have to recognize that, in 1982, the park was a vast open area. There were no interchanges except for a modest one at Hopyard and I-580 and it was difficult for interested parties to find the property. The arches helped to solve that condition."
Joe Callahan
Callahan Property Company
1985
Pleasanton voters ratify plan for Hacienda
Hewlett Packard moves into new facility at park
Hopyard Road Interchange breaks ground
Hacienda hosts first annual Picnic in the Park
Sheraton opens
Hacienda Child Care Center breaks ground
Associates National Bank comes to Hacienda
Associates Center receives "Award of Merit"
1986
Ordinance passed approving the second phase of Hacienda
Callahan Pentz receives energy efficiency award for Hacienda
Final phase of Hacienda receives unanimous approval from city
Phase II sites created
Child Development Center grand opening
Hacienda West opens
AT&T ground breaking on 1.1 million sq. ft. facilities
Hacienda hosts new annual food drive
Courtyard by Marriott grand opening
"I have fond memories of the community parties and fundraisers we hosted in some of the buildings like the Saratoga Center and the Willow Center that were just shells at the time. They were grand affairs with guests in their finest attire arriving at unlandscaped, vacant buildings. It was the beginning of the spirit of cooperation between Hacienda and community groups that still exists today."
Patrick O'Brien
Leisure Sports
1987
Hacienda Child Development Center receives national award
Hacienda Motors Ltd. opens
1988
Hacienda opens new information center
New streets open in Hacienda
AT&T Center opens
680 Stoneridge interchange approved and construction begins
Hacienda receives outstanding project award for soil conservation and comprehensive soil testing
Hacienda sponsors first art and wine event
Hopyard overpass opens
1989
Hacienda named one of the World's Best Business Parks by Site Selection Magazine
Corporate Stampede raises more than $2000 for Special Olympics
Hacienda hosts Hawaiian Luau
Gateway Square merchants celebrate grand opening
Britannia Business Center approved
New Stoneridge overpass opens
"No matter what business you invest in, you leave some kind of statement over time. In Pleasanton, I believe Hacienda is the one that will leave the greatest mark"
Mark Sweeney
CM Realty
1990
Wells Fargo opens new branch in Hacienda
Hacienda and I-580 overpass begins construction
Construction begins on Pleasanton post office in Hacienda
Hacienda games raise $3000 for PUSD
Bissel & Karn move headquarters to Hacienda
BART opens Pleasanton field office
1991
Las Positas College opens an off-campus at Hacienda
Dutra Realty builds new facility in Hacienda
Hometown Heroes parade held in Hacienda
Hacienda Interchange opens
Chevy's opens
Pleasanton leadership program TSM Award given to Hacienda
BART breaks ground
City Council approves residential housing in Hacienda
"Though working with a large team of experts is an everyday occurrence for TJKM now, it was a rarity in the 1980s. Looking back, our recommendations worked out quite well. Even today, the congestion that vehicles may experience in the area is rarely within Hacienda."
Chris Kinzel
TJKM Transportation Consultants
1992
Verona housing development breaks ground
Child Care Resource Center opens
Nellcor breaks ground on new facility
1993
Hacienda transportation programs honored
1994
SmithKline and Wal*Mart pick Hacienda for new sites
PeopleSoft moves to AT&T Center
Ground breaks on Siena, Avila and Valencia homes
Wal*Mart breaks ground
1995
Hacienda gets new retail center - Metro 580
Unisource Worldwide builds facility in Hacienda
University of Phoenix opens
Hacienda hosts Hopfest, raising $30,000 for Tri-Valley charities
Verona housing project sells out
1996
New park opens in Hacienda
ProBusiness breaks ground on headquarters
1997
PeopleSoft unveils plans for campus
BART opens May 10th
Archstone approved
1998
PeopleSoft opens new campus
Sierra Suites opens
Shaklee breaks ground on new facility
Owens Park and Creekside Park break ground
ProBusiness breaks ground on expansion
Hacienda companies compete at Technology Festival
Joe Callahan, Mark Sweeney and Patrick O'Brien given Mayors award for outstanding contribution to community
"We've been successful because we have good employees and work for clients who have viable projects, projects that make sense. Today, we're the oldest engineering firm in Pleasanton and have been involved in many major projects here like Ruby Hill, Vineyard Corridor improvements and Bernal property, but it makes me especially proud to have been involved with the first development of Hacienda."
Pete Ruggeri
Ruggeri, Jensen, Azar & Associates
1999
ValleyCare health library moves to Hacienda
1st United Credit Union opens headquarters
Hacienda receives 1999 Clean Air Envy award from American Lung Association
Shaklee, ADG, Archstone all open Hacienda facilities
"Shaklee looked at numerous sites in San Francisco and every business park in the East Bay. None could match Hacienda Business Park in terms of attractiveness, proximity to transportation, and overall high quality management." Marjorie Fine Senior VP and General Counsel Shaklee
2000
Commerce One moves worldwide headquarters to Hacienda
Visioneer and moves corporate headquarters to Hacienda
Iron Planet's headquarter opens in Hacienda
Thomas Hart Middle School opens
"I grew up in Pleasanton and watched Hacienda Business Park be built. My first "office" job was in the Hacienda West building. Now, I am the Senior Property Manager of three projects within the park. Pleasanton is my history and it's exciting to be a part of its on-going growth and opportunities." Julie Remy
Senior Property Manager
Harsch Investment Properties
2001
Polycom moves to Hacienda
Hopyard Plaza approved
WAMU brings wholesale and retail mortgage operations to Hacienda
"The Hacienda Business Park is a tremendous asset to the City of Pleasanton. Not only is it home to 475 excellent companies, including several Fortune 500 firms, but it's also a symbol of our community's commitment to business. We recognize that having a strong economic base brings in revenues that allow the City to continually provide a variety of excellent amenities for both residents and employees."
Nelson Fialho
City Manager, Pleasanton
2002
PeopleSoft expands campus
Prudential California Realty moves corporate campus to park
2003
Ross Store moves corporate headquarters to Hacienda
2004
Kohls opens
Sports Chalet opens
Commerce West Insurance moves headquarter to Hacienda
2005
Kaiser Permanente purchases Hacienda facilities
Simpson Manufacturing purchases Hacienda facility
Direct Buy discount home products moves to Hacienda
"We are so proud the Hacienda Business Park is located in Pleasanton. The management and ownership of the Park have been outstanding partners in making Hacienda a desirable place to live and work in this community. By staying attuned to the needs of Pleasanton and the Tri-Valley, Hacienda Business Park has been a significant contributor to the quality of life we all enjoy."
Jennifer Hosterman
Pleasanton Mayor
2006-2007
ValleyCare Health Systems announces new cancer center in Hacienda
Dahlin Group completes new headquarters
SCIF purchases Hacienda facility
Roche breaks ground on new facility
2007
Robert Half International expands in Hacienda
"2007 marks the 10th year Roche moved into our new campus in the Hacienda Business Park. Looking back on the decision and why Hacienda was ultimately selected as our new home, we clearly made the right choice. Decision criteria included: central location with good access to public transportation, room to expand and a high quality business park with a wide assortment of amenities. I believe these qualities have in part contributed to our ability to attract and retain excellent employees who in turn have contributed to our success and growth. We are proud to be a tenant in the business park and a member of the Pleasanton community."
Greg Canfield
Roche Molecular Systems
Photo captions: 1 A view of Hacienda at the intersection of Hopyard Road and Stoneridge Drive in 1983 2 The Associates Center, now Hacienda Terrace 3 Chabot Center 4 Karin Mohr breaks a champagne bottle at the groundbreaking ceremony for the business park 5 Site for Diablo Center 6 Hacienda Grand Opening 7 Soccer City Run, 1984 8 Hacienda overpass construction, 1991 9 The first official car to drive on the ramp to Northbound 680 from Stoneridge Drive 10 CarrAmerica Conference Center 11 Dublin/Pleasanton BART Station 12 Owens Drive ribbon cutting, 1988 13 The second floor of Bissell & Karn under construction, 1986 14 Aerial view of 680, left to right, and Stoneridge Drive, top to bottom 15 Dublin/Pleasanton BART opening, 1997 BART president Margaret Pryor receives a plaque from Ernie Hughes 16 AT&T opening with participants including Ken Mercer, Governor Pete Wilson, and Bob Shallenberger 17 Roche Molecular Systems 18 Remedy 19 Hacienda Sales & Marketing office, 1988 20 Chip Wiser, left, and Don Marks, right, of the Prudential marketing group 21 Corporate Stampede 22 Allen and Tony Ragone at an open house at their 390,000 sq. ft. Unisource facility, 1995 23 Hacienda Child Development Center ground breaking,1985 24 Virginia Fellingham brought her stagecoach and gave rides to the public at the Wells Fargo grand opening 25 Aerial view of Hacienda today 26 The Taylor Building 27 Oracle 28 Kaiser Permanente IT 29 Shaklee 30 SafeAmerica Credit Union 31 Hopyard Plaza 32 Dahlin Group 33 1st United Services Credit Union 34 Simpson Manufacturing
Also in this issue ...