May
May 18, 2010 | Volume 18, Number 5
Entertainment, Tri-Valley Style
By Hacienda Pulse Staff Writer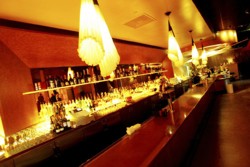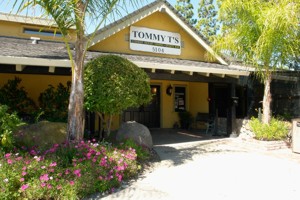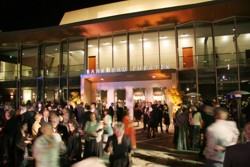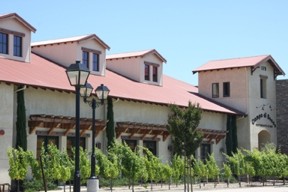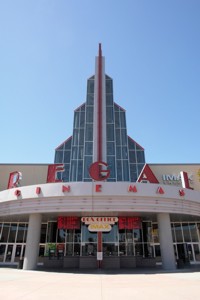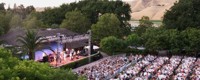 What to do for fun on a Saturday night is no challenge in the Tri-Valley. Concerts, dancing, movies, theater, fine or casual dining with live music, indoors or out - all are possible weekend diversions. There is lots going on during the week as well, from comedy clubs to karaoke. Pick your choice from the long list of entertainment options below.
In Hacienda
Aura 4825 Hopyard Road, Pleasanton (925) 416-0777 www.nightclubaura.com www.myspace.com/nightclubaura A sophisticated dance club with rotating DJs and occasional live bands, Aura is open Wednesday through Friday, 10 p.m. to 2 a.m., and Sat., 9:30 p.m. to 2 a.m. The Hacienda nightspot serves the latest cocktails in a decor boasting "fanciful artistic touches," luxurious seating, top-of-the-line sound, imaginative and artistic lighting. Reserve a VIP Booth for up to eight people, or the Elite Fireplace Table, for up to 14. The club is also available for launch parties, weddings, receptions, benefits, and fashion shows. Chef Garrick Penn heads in-house catering team. Check the web site for the monthly calendar.
Faz 5121 Hopyard Road, Pleasanton (925) 460-0444 www.fazrestaurants.com Relax to live jazz and blues from 5 to 9 p.m., Monday through Friday. Chef-owner Faz Poursohi tempts diners with his Mediterranean-Near Eastern cuisine in this well-appointed restaurant in the Sheraton Four Points Hotel.
In Town
Barone's 474 St. John St., Pleasanton (925) 426-0987 www.themenupage.com/baronesrestaurant.html This self-described "most romantic continental cuisine restaurant" has a piano bar starting around 7:45 pm on Fridays and Saturdays, an accompaniment to its savory pasta, seafood, and meat entrees. From May 20 through the fall, there will be "Music Under the Stars" every Thursday night (weather permitting), with a different band each week. The outdoor terrace will be serving light fare like salads and meats from the barbeque grill from 5:30 to 10 p.m.
Blue Agave Club 625 Main St., Pleasanton (925) 417-1224 www.blueagaveclub.com An inviting spot for people-watching, in good weather this colorful Pleasanton restaurant features a solo guitarist playing on the patio during dinner hours, Wednesday through Saturday. The menu highlights "favorite family recipes and specialties that blend traditional Mexican flavors with health conscious California style of cooking." Open for lunch from 11:30 a.m. to 2:30 p.m. every day; dinner service starts at 5:00 p.m.
Main Street Brewery 830 Main St., Pleasanton (925) 462-8218 www.mainstbrewery.com Open for lunch and dinner Tuesdays through Sundays, Pleasanton's only brew pub offers live music Friday and Saturday nights, and an occasional Sunday. The selection ranges from blues to reggae to Cajun zydeco. Check the schedule at www.easysite.com/mainstreetbrewery. The brewery showcases native ales like Attaboy IPA, made with locally grown hops, along with a dozen rotating taps. A dozen different kinds of burgers and a long list of sandwiches and salads fill the menu.
The Farmer Restaurant at the Pleasanton Hotel 855 Main, Pleasanton (925) 399-6690 www.pleasantonhotel.com This new restaurant in a familiar setting has something happening almost every day of the week. On Wednesday, it's a band on the patio at 6 p.m., and then karaoke with host Ed at 8. DJ Balthazar presides over Thirsty Thursdays from 8 to midnight. A different live band plays Friday and Saturday nights, and at 2 p.m. Sunday in the summer. Mystery Dinner Theater comes back with "Murder by Merlot" on Friday, May 21. Closed on Monday, the restaurant is open from 11 a.m. to 9 p.m. Tuesday through Saturday, and from 10 a.m. to 8 p.m. on Sunday.
Redcoats British Pub & Restaurant 336 Saint Mary St., Pleasanton (925) 462-6600 www.redcoatspub.com A DJ spins tunes from 10 p.m. to 1 a.m. on Friday and Saturday nights at this "rather posh pub located in a lovingly restored old building." Food is served all day. Fish & chips are a specialty, but the menu selections are varied, from salads to calamari. Dining environments include the shaded courtyard, the rear patio, and the mezzanine lounge.
Sunshine Saloon 1807 Santa Rita Rd., Pleasanton (925) 846-6108 www.sunshinesaloon.com There's always a game to watch on the giant video screens powered by a dozen satellite dishes at this informal eatery. More active players can enjoy a round of pool, ping pong, air hockey, shuffleboard, darts, or foosball. DJ AK leads karaoke on Wednesdays at 9 p.m.
RJ's Popi Lounge 3059 Hopyard Road, Pleasanton (925) 462-7674 www.thepopilounge.com Karaoke starts at 9 p.m. on Thursdays. Friday and Saturdays there is a DJ on duty from 9:30 pm. The lounge is open Tuesday to Friday, 4 p.m. to 2 a.m., Saturday, 8 p.m. to 2 a.m.; closed Sunday and Monday.
Tommy T's Comedy and Steakhouse 5104 Hopyard Road, Pleasanton (925) 227 1800 www.tommyts.com Mondays are Open Mic, and Spaghetti Tuesdays feature a comedy showcase and a spaghetti dinner. Josh Blue, the Winner of Last Comic Standing, takes the stage for four days from Friday, May 28. The web site has ticket information, show times, and menus.
Regional Draws
Amador Theater 1155 Santa Rita Rd., Pleasanton (925) 931-5361 www.ci.pleasanton.ca.us/community/arts/amador-theater.html Owned and operated by the City of Pleasanton, the Amador Theater has served as the City's principal performing arts facility for over 60 years. The season wraps up on Sunday, June 13, with Spark Dance Studio's second annual recital, performances at 1:00 p.m. and 4:30 p.m. Check the web site for times and tickets and other scheduled performances.
Bankhead Theater 2400 First Street, Livermore (925) 373-6800 www.livermoreperformingarts.org The home base for many local performing arts organizations, the Bankhead hosts events as diverse as the Austin Powers movie/60s Party on June 3 to the Tribute to Harry Chapin show the following night. Find the full calendar and assortment of entertainment on the web site, and check back for new additions to the schedule.
Campo di Bocce of Livermore 175 E. Vineyard Ave., Livermore (925) 249-9800 www.campodibocce.com This family-owned Italian restaurant also belongs to the U.S. Bocce Federation, the first and premiere bocce and dining entertainment facility of its kind, a perfect place for food, friends, and fun. Dine indoors or out, alongside the eight world-class bocce courts. Open from 11 a.m. to 11 p.m. during the week, and until midnight on weekends.
Cinema West 2490 First Street, Livermore (925) 443-SHOW www.cinemawest.com/liv.html Along with the distinctions of luxury rocking seats and all-digital projection, the cinema is topped by the largest roof-mounted solar power installation for a movie theater in the world. View the listing of current and coming attractions and buy tickets on line.
Dougherty Valley Performing Arts Center 10550 Albion Rd., San Ramon (925) 973.ARTS www.SanRamonPerformingArts.com Located on the Dougherty Valley High School campus, this 600-seat proscenium theater will host several different kinds of dance performances over the next month, including the 37th Annual Belly Dancer of the Year Pageant, May 29 and 30, and a June 6 appearance by the Hawai'ian group The Makaha Sons. Visit the web site for the calendar and ticket information.
Garre Winery 7986 Tesla Road, Livermore (925) 371-8200 www.garrewinery.com Friday night dinners with live music at the Garre Cafe start with a fat funky jazz performance on May 28, and continue throughout the summer. Wednesday Bocce Ball & Italian Dinner Nights resume on June 2. The group-play evenings include three glasses of complimentary vineyard estate wine, an Italian dinner served on the courtyard, and bocce ball instruction. Call or visit the web site for reservations and other events.
Hacienda Crossings Stadium 21 & IMAX 5000 Dublin Blvd., Dublin (925) 560-0900 www.regalcinemas.com Regal Cinemas bring the supersized IMAX experience to the Tri-Valley. Other screens show first-run films, and all theaters offer digital sound and stadium seating.
Henry Beam's Blue Bar 2293 First Street, Livermore (925) 373-3820 This "strictly nightlife" spot is open Wednesday through Saturday, from 8 p.m. The weekend starts earlier on Friday, with doors open at 3 p.m. There is a DJ and dancing Thursday, Friday, and Saturday.
Livermore Valley Wine Growers Association (925) 447-WINE (9463) www.livermorewine.com The 40-plus member wineries of the Livermore Valley Wine Growers Association offer a tremendous selection of festive events, including themed tastings, and special music, food, and wine happenings. Check the association's web site for the current calendar of events.
Sanctuary Ultra Lounge 2369 First Street, Livermore (925) 373-0521 www.sanctuaryultralounge.com This self-described "place to truly get away from it all" features signature drinks, tapas, small, and medium plates by chef Denise Creek Garcia, and live entertainment/music on weekends. Thursday is Open Mic/Jam Night, and on Sunday there is karaoke from 6 to 10 p.m. Open seven days a week; see the website for specific hours.
Sapphire Restaurant and Lounge 2300 First St., Livermore (925) 373-0325 www.sapphirelivermore.com A new arrival in October 2009, Sapphire is "THE Hot Spot for lunch, dinner, dancing, and fun." Rock out to live dance music Thursday nights. Visiting DJs spin the tunes over the weekend. Closed Mondays. Visit the website to see the full menu and hours.
Vine Cinema & Alehouse 1722 First St., Livermore (925) 447-2546 www.vinecinema.com Part of the newly renovated Vine Center, this movie theater offers an assortment of independent films, plus "craft" beer on tap, and local wines. View schedules and trailers of coming attractions online.
Wente Vineyards and Restaurant 5050 Arroyo Rd., Livermore (925) 456-2300 www.wentevineyards.com Nine concerts from June 17 through September 21 will spotlight such luminaries as Liza Minnelli, Chris Isaak, ZZ Top, Willie Nelson, and Harry Connick Jr. Wente is part of Hacienda's special offers program. Details are available at: www.hacienda.org/services/services_special_offers_wente.html . Summer Cinema returns with Mama Mia on June 29, Ghost Busters on July 27, and Twilight on August 17. The complimentary movies begin at twilight, after one of three dinner options: the three-course fixed price menu in the restaurant, casual offerings from the Reel Classics Cafe on the terraced lawn, or a meal on The Grill patio.
Also in this issue ...