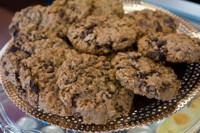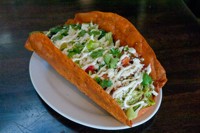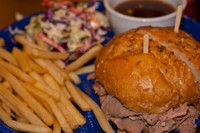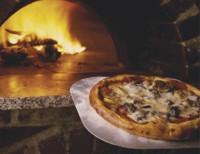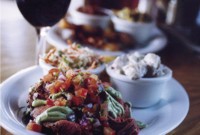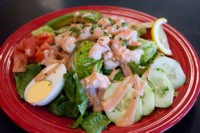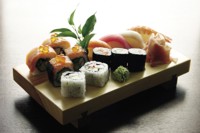 With enough dining options to cycle through a different restaurant every workday for a month, Hacienda has an incredible diversity of cuisines, flavors, and ingredients bound to satisfy any craving. Whether you are looking for a full breakfast or a quick snack, a quick lunch or leisurely dinner, or even a venue for a corporate event, you won't have to leave the park to find what you want. (Note that all phone numbers are in the 925 area code)
Anarkalee Restaurant 4515 Rosewood Drive #700 460-8040 www.anarkaleerestaurant.com Mon.-Fri. 11:30 a.m. to 3 p.m. and 5 to 10 p.m., Sat.-Sun. 11:30 a.m. to 10 p.m. Seasonal daily specials, curries, clay oven barbeque with the rich and delicate flavors of Indian and Pakistani cuisine. Fully licensed, suitable for groups and business meetings. Visit the website for 10% discount coupon.
Arby's 5900 Owens Drive 467-1912 www.arbys.com Mon.-Fri. 10 a.m. to 10 p.m. lobby, 11 p.m. drive-through; Sat.-Sun. 10 a.m. to 9 p.m. lobby, 10 p.m. drive-through. The latest Arby's specials include Market Fresh Grilled Chicken & Pecan Salad on a wholegrain flatbread wrap, the Angus Three Cheese and Bacon sandwich, and the Jamocha Oreo Shake. Pair Arby's traditional roast beef sandwich with potato cakes, curly fries, or mozzarella sticks with marinara sauce, or a chopped salad.
Big Apple Bagels 4555 Hopyard Road #13 460-3737 www.bigapplebagels.com Mon.-Fri. 6 a.m. to 4 p.m., Sat. 6 a.m. to 3 p.m., Sun. 6 a.m. to 2 p.m. Start the day with a bagel and cream cheese, a fresh-baked muffin, an omelet, or a tasty breakfast sandwich, accompanied by BAB's house-brand Brewster's Coffee. For lunch, there's a broad array of deli sandwiches, along with soups and signature salads, seven days a week. Chill out with an Icespresso, a blended ice coffee drink, or pick up a tin of My Favorite Muffins as an office treat. Order to go or eat in, or consider the catering menu for gatherings.
Carl's Jr. 4555 Hopyard Road #25 460-8050 www.carlsjr.com Daily from 6 a.m. to 10 p.m. This season's highlight is the Hand-Breaded Chicken Fillet Sandwich, but that's just the beginning of a long menu that includes chicken tenders, taco salad, chili cheese fries, and the famous charbroiled burgers in a dozen different iterations. French toast, a breakfast burrito, or an egg and sausage croissant give a great start to your day.
Chevys 5877 Owens Drive 416-0451 www.chevys.com Sun.-Thurs. 11 a.m. to 10 p.m., Fri.-Sat. 11 a.m. to 11 p.m. Chevys' "Fresh Mex" menu is full of savory and satisfying classics, from sizzling fajitas and carnitas to quesadillas, tacos, enchiladas, soups, and salads. Everything is made from scratch every day, right in the kitchen. The full bar has a deep line-up of tequilas and cervezas. Chevys' website offers coupons, discounts, and recipes.
Chili's 4801 Hopyard Road 734-0911 www.chilis.com Mon.-Thurs. 11 a.m. to 11 p.m., Fri.-Sat. 11 a.m. to 11:30 p.m., Sun. 11 a.m. to 10:30 p.m. Happy Hour Mon.-Fri. 3 to 7 p.m., Mon.-Thurs. 9 to 11 p.m.; all day Sunday Ten appetizer choices, $6 lunch combos, house-made baby back ribs slow-smoked over pecan wood - these are just some of Chili's attractions. The menu features soups, salads, burgers, seafood, steaks, chicken, tacos, fajitas, and more than a dozen different margaritas. Place your order online when you're in a rush.
Eddie Papa's American Hangout 4889 Hopyard Road 469-6266 www.eddiepapas.com Mon.-Thurs. 11 a.m. to 9 p.m., Fri. 11 a.m. to 10 p.m., Sat. 10 a.m. to 10 p.m., Sun. 10 a.m. to 9 p.m. Bar closes one hour after restaurant. Sat. and Sun. brunch from 10 a.m. to 2 p.m. Boasting "true blue American comfort food," Eddie Papa's serves up an array of regional specialties like New Orleans Jambalaya, Vermont Apple Pork Chop, and Monticello Macaroni & Cheese, to name just a few. Try the soups, salads, or sandwiches, and enjoy artisan cocktails, microbrews, fountain drinks, or fun desserts.
Faz America 5121 Hopyard Road 460-0444 www.fazrestaurants.com Mon.-Fri. 6:30 a.m. to 10:30 a.m., 11:30 a.m. to 3 p.m., 5 p.m. to 10 p.m.; Sat. and holidays, 7 a.m. to 10:30 a.m., 11:30 a.m. to 2:30 p.m., 5 p.m. to 10 p.m.; Sun. 7 a.m. to 10 a.m., 10:30 a.m. to 2:30 p.m. (brunch), 5 p.m. to 10 p.m. Happy Hour Mon.-Fri. 5:30 p.m. to 7:30 p.m.; lounge open nightly till 11 p.m.
Set amid water fountains and landscaped gardens, Faz serves breakfast, lunch, dinner, and Sunday brunch with Mediterranean-Near Eastern accents. Lunch options include appetizers, salads, specialty sandwiches, mesquite wild fire roasted kabobs, pasta, and brick-oven pizzas. Equipped with a full bar, the restaurant also offers complete off-site catering packages and on-site facilities for weddings and other special events.
Jamba Juice 4555 Hopyard Road #17 847-8525 www.jambajuice.com Mon.-Fri. 6 a.m. to 9 p.m., Sat.-Sun. 7 a.m. to 9 p.m. Specializing in healthy-lifestyle food and beverages, Jamba Juice is the place for grab-n-go salads, wraps, and savory sandwiches, all without artificial flavors or preservatives. Four different kinds of Ideal Meals, blended with fruit, soymilk and/or yogurt and topped with bananas and organic granola, make a nutritious and delicious balanced meal. The extensive menu of fresh fruit drinks, juices, and teas is always refreshing. Pick-up orders and catering are also available.
Kinder's 4825 Hopyard Road #2 461-2333 www.kindersmeats.com Mon.-Sat. 9 a.m. to 8 p.m., Sun. 10 a.m. to 6 p.m. This third-generation family business, which originated as a meat market, is now renowned for its barbeque, deli sandwiches, sauces, and marinades as well. It has grown to 14 locations in northern California and two in Reno. For lunch or dinner, consider Kinder's Famous Ball Tip Steak sandwich or daily specials like Monday's Philly Cheesesteak or Wednesday's Chicken Club. Kinder's also sells meats from the smoker and offers catering services.
Maui Wowi Hawaiian Coffee & Smoothies 4833 Hopyard Road #1 463.8600 www.mauiwowi.com Mon.-Fri. 6 a.m. to 8 p.m., Sat. 7:30 a.m. to 8 p.m., Sun. 7:30 a.m. to 6 p.m. At breakfast, lunch, or dinner, enjoy Maui Wowi's Aloha spirit with an exclusive line of Hawaiian blend coffee, Kona espresso drinks, and signature Fresh Fruit Smoothies. Dinner plates feature Hawaiian pork and beef and chicken teriyaki.
McDonalds (inside Wal-Mart) 4501 Rosewood Drive 463-3503 www.mcdonalds.com Daily from 7 a.m. to 11 p.m. McDonald's menu has grown from classic fare like the Big Mac to the Premium Grilled Chicken Club, a wide variety of snack wraps, breakfast items, salads, and sides. McCafe offerings include an assortment of hot and cold coffee drinks and real fruit smoothies. Burgers, fries, shakes, and extra value meals are standard fare.
Patio Cafe 5880 Owens Dr. (inside the State Compensation Fund building) 469-0139 patiocafe@tdscafe.com Mon.-Fri. 7 a.m. to 2 p.m. Every week manager Andrew Larson creates an inspired five-day menu with a tasty breakfast grill item and creative lunch choices in five categories-soup, salad, panini, main course, or luncheon grill.
Red Robin 4503 Rosewood Drive 225-1755 www.redrobin.com Sun.-Thurs. 11 a.m. to 11 p.m., Fri.-Sat. 11 a.m. to midnight. A dozen different gourmet burgers with names like Whiskey River BBQ and Burnin' Love satisfy any appetite. Entree highlights at this casual dining restaurant include Clamstrips, Arctic Cod Fish & Chips, and the Prime Rib Dip, or try the pasta dishes, wraps, or salads. Desserts, cocktails, beer, and wine are also served.
Red Smoke Grill 4501 Hopyard Road #2 734-0307 www.redsmokegrill.com Open daily at 11 a.m.; closes Mon.-Thurs. and Sat. at 9 p.m., Fri. at 9:30 p.m., Sun. at 8:30 p.m. Based on a unique California barbecue concept, Red Smoke Grill combines convenience with a casual atmosphere, serving freshly prepared food made with high-quality ingredients. Tri-tip, rotisserie chicken, ribs, sandwiches and salads are standards. Choose a combo platter with Chipotle Prawns, or order a Family Meal to go.
Round Table Pizza 4855 Hopyard Road #1 847-0750 www.roundtablepizza.com Sun.-Thurs. 11 a.m. to 9:30 p.m., Fri.-Sat. 11 a.m. to 10 p.m. King Arthur's Supreme, Montague's All Meat Marvel, and Guinevere's Garden Delight top Round Table's list of premium specialty pizzas, all available for dine-in, carry-out, or delivery. Create Your Own Pizza with a broad selection of crust, sauce, and toppings, or choose a sandwich, appetizer, or salad.
Sannidi Indian Cuisine 5681 Gibraltar Drive 225-9999 www.sannidicuisine.com Mon.-Sun., 11 a.m. to 3 p.m., 5 p.m. to 10 p.m. A lunch buffet is served daily, with the bountiful weekend version including more than 25 items. Order wraps, classic Tandoori dishes, or South Indian specialties from the extensive dinner menu. Take-out, catering, and a 100-seat capacity banquet hall are also available. Wine and beer, including India's favorite brand, Kingfisher, are also served.
Sendo Sushi 4555 Hopyard Road #5 227-9000 Mon.-Fri. 11:30 a.m. to 2:30 p.m. and 4:30 to 9:30 p.m., Sat. noon to 2:30 p.m., 4:30 to 9:30 p.m., Sun. noon to 2:30 p.m., 4:30 to 9 p.m. Serving traditional Japanese sushi, sashimi, udon, teriyaki, and tempura, the restaurant offers comfortable tables and booths surrounding a large sushi bar. Lunch specials include bento and specialty entrees. Take-out service available.
Starbucks 4555 Hopyard Road #15 468-0138 www.starbucks.com Mon.-Fri. 5 a.m. to 8 p.m., Sat. 5:30 a.m. to 8 p.m., Sun., 5:30 a.m. to 7 p.m. Along with its celebrated coffee drinks, Starbucks has a food menu that provide sustenance all day, from oatmeal or sausage, egg & cheese between an English muffin for breakfast to an egg white, spinach, and feta wrap, roasted vegetable Panini, or tomato and mozzarella sandwich for lunch and beyond. The bakery case offers pastries, mini cupcakes, cake pops, and other treats. All this is in addition to whole beans by the pound, WiFi, and special music promotions.
Subway 4555 Hopyard Road #23 460-0707 www.subway.com Mon.-Sun. 8:00 a.m. to 10 p.m. July's featured $5 Footlong is the Italian B.M.T. Fresh Fit Choices include oven-roasted chicken, Black Forest ham, turkey breast, and roast beef, among others. A $3 Flatbread Combo, which includes a large coffee, is one of the morning meal selections. Favorite SUBWAY meats and veggies can be turned into salads with your choice of topping. Sides run the gamut "from salty to sweet and from fit to indulgent."
Sweet & Savory Cafe and Bakery 5685 Gibraltar Drive 847-2911 www.sweetandsavory.com Mon.-Fri. 6:30 a.m. to 3:30 p.m. Sweet and Savory offers appealing breakfast and lunch items-sandwiches on artisan-baked bread, salads with fresh greens, homemade soups, and delicious desserts, as well as customized catering services. Look for mouth-watering daily specials on the web site.
Sweet Tomatoes 4501 Hopyard Road #1 463-9285 www.sweettomatoes.com Mon.-Thurs. 11 a.m. to 9 p.m., Fri.-Sat. 11 a.m. to 10 p.m., Sun. 9 a.m. to 9 p.m. With an all-you-can eat buffet, this is the place to bring your appetite. Selections range from fresh fruits and veggies to pasta dishes, chicken and vegetarian fare, made-from-scratch soups, bakery treats, breads and desserts. Sundays feature special brunch items from 9 to noon. Check the website for seasonal selections.
Taqueria El Balazo 4515 Rosewood Drive #600 734-8226 www.elbalazo.net Mon.-Sat. 10 a.m. to 9 p.m., Sun. 10 a.m. to 8 p.m. Founded in San Francisco, this small family-owned chain of 10 locations offers authentic Mexican food in all its forms, from tacos and burritos to seafood, specialty platters, and nachos, accompanied by sides of cabbage salad, beans, or rice. Salads, sandwiches, family dinners, and child meals, along with sodas, wine, and beer, are also on the menu. Dine-in, take-out, and catering services are available.
TCBY Yogurt 4747 Hopyard Road #5 847-8229 www.tcby.com Mon.-Thurs. 11 a.m. to 10:30 p.m., Fri. and Sat., 11 am to 11 p.m., Sun. noon to 10:30 p.m. Cool off on hot summer days with cold treats from parfaits and shakes to cones and splits. Beriyo Smoothies, made from real dairy frozen yogurt and real fruit and fruit juices, come in a dozen ripe and juicy flavors, or take home a delicious gourmet cake or deep dish pie.
The Bistro at Courtyard Pleasanton 5059 Hopyard Road 463-1414 www.pleasantoncourtyard.com Mon.-Fri. 6:30 to 9:30 a.m., Sat.-Sun. 7 to 10 a.m., dinner served 5 to 10 p.m. daily. Happy Hour Mon.-Fri. 5 to 7 p.m. The remodeling of the Courtyard by Marriott lobby has created a new venue for breakfast and casual dinner featuring sandwiches, soups, salads, and snack dishes.
The Cheese Steak Shop 4825 Hopyard Road #20 734-0293 www.cheesesteakshop.com/pleasanton Sun.-Wed. 10 a.m. to 8 p.m., Thurs.-Sat. 11 a.m. to 9 p.m. Among the touches that give these cheese steaks their East Coast authenticity are the sandwich rolls and peppers shipped directly from Philadelphia. The menu also boasts a variety of chicken sandwiches, Italian hoagies, vegetarian options, salads, fish and chips, and sides, including batter-fried mushrooms. Top off your meal with Tastykakes, another Philly favorite. Orders can be placed online using the website.
The Courtyard Cafe 4432 Rosewood Drive 463-3000 www.aramarkcafe.com/carramerica Mon. to Fri. 6:30 a.m. to 10 a.m., 11 a.m. to 1:30 p.m. The cafe serves a changing array of fresh breakfast and lunch items in several categories, including grill, soup, salad, pizza, world, sandwich, and express. Daily menu selections are posted on the website.
The Honey Baked Ham Company 4555 Hopyard Road #11 734-9418 www.ca.honeybaked.com Mon.-Fri. 10:30 a.m. to 6 p.m., Sat. 10 a.m. to 5 p.m. In addition to its famous spiral-sliced hams, this deli cafe offers sandwiches, desserts, and drinks throughout the day. Special occasion platters feature turkey, cheese, braided sandwiches, hors d'oeuvres, nibblers, veggies, relish, fruit, and bread, or take home a ham, turkey breast, or BBQ rib combo with a salad and cheesecake for the family dinner.
Ume Sushi 4855 Hopyard Road #6 734-0996 www.umesushi.com Mon.-Thurs. 11 a.m. to 2:30 p.m., 4:30 to 9:30 p.m., Fri. 11 a.m. to 2:30 p.m., 4:30 to 10 p.m., Sat. 11 a.m. to 10 p.m., Sun. 4:30 p.m. to 9:30 p.m. At lunchtime, choose from udon noodle dishes, sushi or sashimi, or select specials like BBQ chicken, short ribs, beef or salmon teriyaki, or tempura. Order online for pick-up or delivery. In addition to sushi, the gourmet dinner menu offers fresh raw fish, soba (the cuisine based on buckwheat noodles), and the creative flavors of Japanese fusion. Party platters are also available.
For help locating a restaurant, see the interactive map of all dining locations within the park at www.hacienda.org. Click on Service Locator under Reference, then select the Locate Services button, then Restaurants. By highlighting a dining icon, you can see the address and contact information for each restaurant.
Also in this issue ...