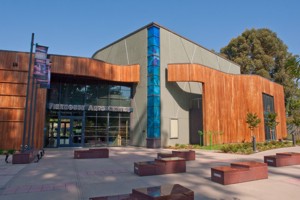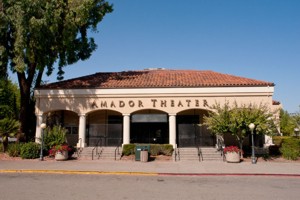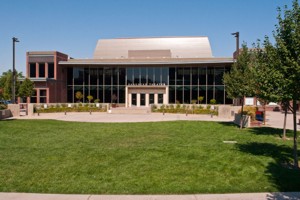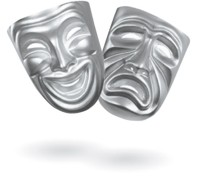 Today's vibrant arts scene in the Tri-Valley is no accident. In addition to municipal support, countless volunteer hours have gone into planning, fundraising, and programming for the three major arts venues that have opened in Livermore, San Ramon, and Pleasanton over the past four years. These local facilities offer a permanent home to a plethora of groups committed to all forms of artistic expression. From opera to poetry readings to teen-oriented improvisation, there is entertainment to suit every taste and age group.
PLEASANTON'S FIREHOUSE ARTS CENTER AND AMADOR THEATER
The Firehouse Arts Center celebrated its first anniversary on Saturday, September 17, exactly as intended, with a full slate of family-centric activities-art projects, music performances, improv workshops, and a reception with free cupcakes. Combining a 240-seat theater, the Harrington Art Gallery, classrooms, and spacious lobby/gathering space, the Center has a busy calendar for the fall season, already in full swing. Pleasanton's other major performing arts venue, the Amador Theater, is located on the Amador Valley High School campus at 1155 Santa Rita Rd.
Upcoming Firehouse events include cabaret and blues performances and a production by the Pleasanton Senior Players. The center also plays host to the Ed Kinney Lecture Series. Fall programs include "California Woman Suffrage," Sept. 21, and "Edgar Allan Poe: Man of Mystery," Oct. 19.
Currently on display in the Harrington Gallery is the Pleasanton Art League (PAL) Members Exhibit, through Oct. 15. The National Watercolor Society Traveling Exhibit opens on Oct. 26. PAL also sponsors workshops with visiting artists. On tap are two days devoted to sketchbooking/collage from Nov. 2-4. Youth programs range from acting to "12 Famous Paintings Kids Should Know." Several classes begin in the fall.
In partnership with San Francisco Shakespeare Festival, Civic Arts Stage Company has several productions geared toward younger audiences. With auditions at Veterans Hall, 301 Main Street, on Sept. 24-25, "Sleeping Beauty" will be presented in early December 9-11 and 14-15 at the Amador Theatre. Lewis Carol's classic "Alice's Adventures in Wonderland" comes to the Firehouse February 29-March 1. The season concludes with Judy Blume's popular "Tales of a Fourth Grade Nothing" May 9-10, also at the Firehouse.
Additional events include the School Concert Series, Friday Night Open Mic for Teens, and the Literary Arts program, which includes Pleasanton's new Teen Poets Laureate.
Find a list of performances and ticket information at www.firehousearts.org .
LIVERMORE VALLEY PERFORMING ARTS CENTER
Providing arts and entertainment activities for the entire community, the Livermore Valley Performing Arts Center (LVPAC) has energized downtown Livermore and the local arts and cultural scene. Its first component is the 500-seat Bankhead Theater, open since 2007. The Bankhead serves as the home for a number of the area's finest performing arts organizations, including Del Valle Fine Arts, Livermore Valley Opera, Livermore-Amador Symphony, Valley Dance Theater, Cantabella Children's Chorus, Tri-Valley Repertory Theatre, and the Valley Concert Chorale. The theater also hosts Bay Area visiting ensembles and is used for conferences, seminars, meetings, and public events.
The 2011-2012 season offers more than 40 different performances with an incredible range of diversity, from theater and ballet to rock n'roll and blues. On the concert schedule are renowned artists like Leo Kottke, David Benoit, and George Winston. Kid-friendly productions include TapKids on Oct. 3 and MatheMagic Oct. 5. For the full performance line-up, tickets, and seating chart, visit www.livermoreperformingarts.org or call (925) 373-6800.
LVPAC Presents is also creating several weekend festival events, with performances in the Bankhead Theater and outdoors on the SheaHomes Stage on the plaza.
The Center's second performance venue, the 2,000-seat Regional Theater, has a projected opening in December 2012.
The Bothwell Arts Center, at 2466 8th Street in Livermore (formerly a senior center under the city's Recreation and Park District) is the third physical expression of LVPAC's commitment to serving the entire Tri-Valley community. Bothwell functions as a home and incubator for the visual and performing arts, with space for artist studios, rehearsal rooms, classrooms, several small performance venues, and arts-related meetings.
Located at 62 South L Street, the Bothwell's new Downtown Art Studios are open to the public on the second Saturday of the month from 1-4 p.m. The artwork ranges from acrylics, collage, fiber, and oils, in styles from traditional to contemporary. A major fundraiser, ArtWalk Livermore, is scheduled for Oct. 8. This annual celebration of art includes more than 100 artists displaying their work, multiple art demonstrations, a graffiti wall, a figurative exhibition, and the grand opening of a new gallery in downtown Livermore. For details, visit www.bothwellartscenter.org .
DOUGHERTY VALLEY PERFORMING ARTS CENTER, SAN RAMON
Located on the Dougherty Valley High School campus, 10550 Albion Road, this 600-seat proscenium theater opened in November 2007, the fruit of a partnership among the city of San Ramon, the San Ramon Valley Unified School District, and the developers of the Dougherty Valley. The affiliated Front Row Theater, located nearby at 17011 Bollinger Canyon Rd, inside the Dougherty Station Community Center, is a venue for smaller performances, with just 90 seats.
This season, Bay Area Childrens Theatre will premiere "Magic School Bus Live! The Climate Challenge" at the Performing Arts Center, Sept. 24-25. The San Ramon Symphonic Band presents "Life is a Cabaret" on Oct. 21, followed by The Capitol Steps on Oct. 22. Holiday-oriented performances include San Ramon Community Theater's musical review, "Home for the Holidays," Dec. 3-17; the San Ramon Symphonic Band's "Winter Wonderland," starting on Dec. 16, both at the Performing Arts Center; and "Rudolph, the Ugly Duckling, and Other Cracked Up Tales," Dec. 19-22, at the Front Row Theater.
View the full line-up and purchase tickets at www.sanramonperformingarts.org .
SINGING, DANCING, AND MORE
From its start as a music literacy class, Cantabella Children's Chorus is now in its 19th season of choral singing. Three different age-related choirs offer instruction in singing, harmonizing, and performing as a choral group for children from kindergarten to high school. CCC members often participate in choral festivals and workshops, and qualified singers are often selected for children's roles in Livermore Valley Opera Company productions. Visit www.cantabella.org or call (925) 292-2663.
Del Valle Fine Arts presents world-class chamber music concerts at Livermore's Bankhead Theater. The 2011 - 2012 season includes five Saturday night concerts: St. Petersburg String Quartet, Oct. 15; Triple Forte Piano Trio, Nov. 12; Glover and Hansen Piano Trio, Feb. 18; Atlantic Brass Quintet, March 31; and Robert Gruca-Guitar, May 19. Purchase tickets at the Bankhead box office at 2400 First Street, (925) 373-6800, or www.livermoreperformingarts.org . Season tickets are also available.
Free Shakespeare in the Park, which began in 1983 in Golden Gate Park, has grown to become one of the major free Shakespeare programs in the nation. Produced every year in San Francisco, Pleasanton, and Cupertino from July through September, Free Shakespeare in the Park provides an opportunity for everyone to see high quality, professional theater free of charge. Check www.sfshakes.org for the 2012 schedule. You can also find information there on the Fall 2011 Shakespeare Camps for children in San Mateo, Oct. 17-28; San Francisco, Sept. 24-Nov. 19; and Los Altos, Oct. 1-Dec. 10.
Harmony Fusion Chorus is a group of female voices singing four-part a cappella in the Barbershop style. The chorus meets Monday evenings at the Hill & Valley Club, 1808 B Street, Hayward, at 7 p.m. Visitors are welcome to listen or join in the singing. The next performance, the Autumn Harmony concert, is a joint fundraising effort to benefit Shepherd's Gate and Harmony Fusion. It will be held on Saturday, Nov. 5, at 3 p.m. at Trinity Lutheran Church, 1225 Hopyard Road, Pleasanton. For information on the Chorus, visit http://harmonyfusion.org/ or call. (925) 373-0210.
Livermore-Amador Symphony is comprised of approximately 60 musicians, most of them volunteers. The concert season opens Dec. 3 with a program of Beethoven, Wagner, and Sibelius at the Bankhead. Additional concert are Feb. 11, March 24, and May 12. This year's fundraising POPS concert, Fanfare for Food, will be held on Oct. 21 in the ballroom of the Livermore Community Center. Applications for the Symphony Association's 39th annual Competition for Young Musicians, open to local instrumentalists and vocalists up to age 17, are due Oct. 2. The winners will perform as soloists with the Symphony and receive a cash prize. For details, call (925) 447-1947 or visit www.livamsymph.org , which also has the full performance line-up and ticket information. To find out about joining the orchestra, call (925) 447-8789.
Livermore Valley Opera (LVO) presents two fully-staged operas annually at the Bankhead Theater. Gounod's "Romeo et Juliette" starts the season with performances Sept. 24-25 and Oct. 1- 2. The spring production is Puccini's "Tosca" in March. Sunday matinees feature Ice Cream & Opera, an entertaining introduction to opera for youngsters. LVO celebrates its 20th anniversary with a Gala at Ruby Hill Golf Club on Jan. 28, highlighted by a trio of divas singing opera's most loved arias. For more information, visit www.livermorevalleyopera.com or call (925) 960-9210.
Pacific Chamber Symphony, a 30-member orchestra based in San Francisco, has performed over 400 different works in more than 500 concert appearances since 1989. Its educational programs have brought classical music to over 200,000 Bay Area children in the form of full orchestra concerts, maestro visits to classrooms, school assembly performances, master classes for music students, and training in the Tri-Valley Youth Orchestra. The symphony now performs at the Bankhead and other Bay Area locations. Its first local concert includes the world premiere of Caliendo World Music Suite #2 and Dvorak's Serenade for Strings on Oct. 8. Other programs on the Bankhead lineup are Handel's "Messiah," Dec. 2; Mozart/Bach/Brahms, Feb. 25; and Handel/Mozart on April 14. For concert details, visit www.pacificchambersymphony.org . Purchase tickets at the Bankhead box office or by phone, (925) 373-6800.
Pleasanton Chamber Players are a loosely-knit group of professional musicians who perform and teach in the Bay Area. Under the leadership of classical harpist Dominique Piana, the group has become the ensemble-in-residence at Pleasanton's Firehouse Arts Center. For more information, visit www.DominiquePiana.com or call (925) 455-5333.
Pleasanton Community Concert Band, conducted by Bob Williams, provides an opportunity for local residents to develop their talents and participate in musical performances. Those interested in joining are invited to attend a Thursday evening rehearsal, usually held at the Pleasanton Middle School. Scheduled performances for the rest of 2011 include the Veterans Day Ceremony at Pleasanton's Veterans Memorial Building, on Nov. 6; and two afternoon concert at the Firehouse Arts Center, Nov. 13 and Dec. 4. For more information, visit www.pleasantonband.org or call (925) 846-5897.
Tri-Valley Repertory Theatre (formerly Pleasanton Playhouse) launches its 28th season in October with a production of "Hairspray" at the Bankhead Theater in Livermore, followed by "Annie," in January and "Oklahoma!" in July. The group's Pleasanton Studio Theatre, at 1048 Serpentine Lane, presents the "Last Five Years" in September, "Nuncrackers: The Nunsense Christmas Musical" in December, and "Shout!" in April. Broadway Chorus, the popular musical series at Pleasanton's Amador Theater, rounds out the season with performances in November, March, and August. For details, visit www.trivalleyrep.org or call 925-462-2121.
Valley Concert Chorale consists of about 40 auditioned singers, many of them from the Tri-Valley. Under the direction of John Emory Bush, the group typically presents three or four performances during the year. Trinity Lutheran Church in Pleasanton will host three program/s during the 2011-2012 season: the Holiday Concert on Dec. 3, the annual and much loved Sing-it-Yourself "Messiah" on Dec. 9, and the Spring Concert on May 12. The Winter Concert will be held at First Presbyterian Church in Livermore on March 10. The Music in the Schools troupe, a combination of chorale members and volunteers, gives performances to elementary schools around the Tri-Valley. For details, call (925) 866-4003 or visit www.valleyconcertchorale.org .
Valley Dance Theatre (VDT) has been providing professionally staged dance performances featuring talented local dancers since 1980. Now the resident ballet company of Livermore's Bankhead Theater, VDT will bring its full-length production of the "Nutcracker" to the Bankhead stage in December, accompanied by the Livermore-Amador Symphony pit orchestra. The company also presents a mid-year showcase of local talent and choreography and runs an affiliated school offering classical dance training in studio classes for ages 2.5 to adult. Tickets for performances are available at www.livermoreperformingarts.org . For information about classes, visit www.valleydancetheatre.com or call (925) 243-0927.
Also in this issue ...