March
March 19, 2013 | Volume 21, Number 3
Pleasanton's Downtown Mixes History with Shopping, Events, and Activities
By Hacienda Pulse Staff Writer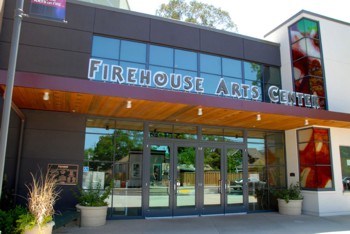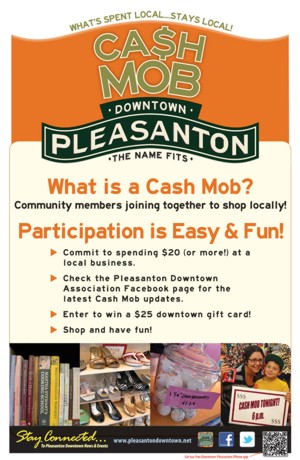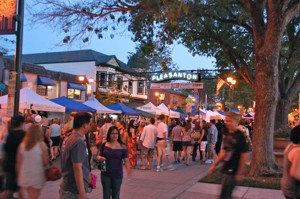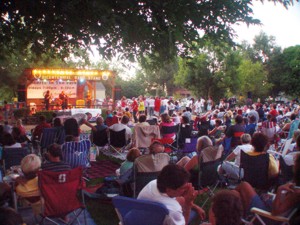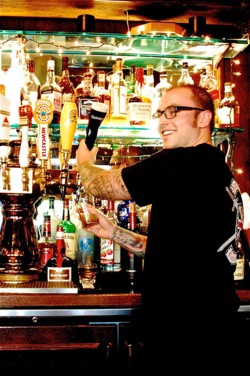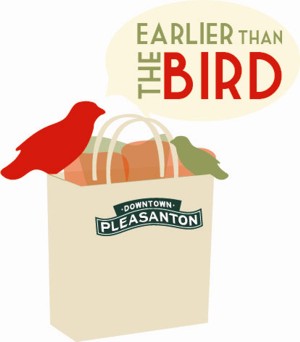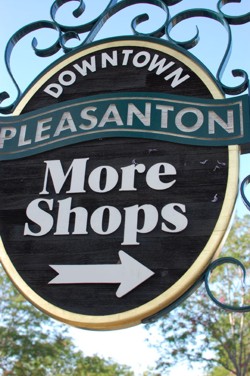 While big business is the economic engine that drives Pleasanton, the city's historic downtown is its heart. Picturesque shops, cafes, and restaurants stand side-by-side along wide sidewalks perfect for an evening stroll or alfresco dinner. Buildings, many of which date from the 1800s, are punctuated by carefully-tended street trees and colorful flower beds. Downtown truly puts the "pleasant" in "Pleasanton."
Downtown Events
Whether you're interested in fresh, locally-grown vegetables, live music, tasty brews, activities, or a host of interesting activities, downtown has a special event for you. You can always find a complete schedule on the Pleasanton Downtown Association web site at pleasantondowntown.net . Here are some highlights for the coming year:
The Downtown Farmer's Market
Saturdays, year round 9:00 a.m. - 1:00 p.m. Every Saturday, rain or shine, you can find the season's freshest fruits and vegetables at Pleasanton's Farmers' Market, all sold to you by the very farmers that raised and harvested the crop. Also on offer are fresh-cut flowers, herbs, and specialty foods.
Cash Mobs
Third Wednesday of the month 6:00 p.m. A relative newcomer to the downtown event roster, Cash Mobs are a new phenomenon aimed at supporting local businesses. Instead of assembling to sing or dance like a Flash Mob, Cash Mobs come together to spend $20 or more at a local business. "It is a great way to provide economic stimulus to our downtown businesses while engaging the community and helping locals get to know our downtown even better," says Laura Olson, Executive Director of the PDA. Visit facebook.com/pleasantondowntownassociation for details of each month's Cash Mob event.
1st Wednesday Street Parties
Presenting Sponsor: Hacienda 6:00 - 9:00 p.m. Main Street closes to traffic from Del Valle Parkway to Bernal Avenue on the first Wednesday of each month from May through September as thousands of visitors flock downtown to shop, dine, and enjoy a broad assortment of local shops and booths staffed by vendors and community organizations. A bandstand is erected at the Round Table Pizza between W. Neal and Division streets along with a beer and wine garden featuring tasty offerings from Livermore Valley Wine Country. A secondary stage, at the north end of Main Street, supplements the action.
Here is the schedule of main stage bands for 2013: May 1 - Cinco de Mayo Celebration with Ruckatan Latin Tribe June 5 - Jump into Summer, featuring DJ Joe July 3 - Red, White, and Blue celebration with The Department of Rock August 7 - DJ Joe returns for the Dog Days of Summer and the popular Pooch Parade September 4 - The theme is "Celebrate Green," with music from Public Eye
Spring and Fall Antique & Collectible Faires
Sunday, May 26 and Sunday, October 13 Both 8:00 a.m. - 4:00 p.m. This Main Street fair brings up to 400 dealers to downtown, selling items at least 20 years old. Choose from furniture, jewelry, home decor, ceramics, toys, clothing, and more. An added attraction is free appraisals from Steve Yvaska, a dealer with 40 years of experience, from 10:00 a.m. - 1:00 p.m. at the corner of Main and Division. See pleasantonantiquefair.com for all the details.
Friday Concerts in the Park
Fridays, June 7-August 30 7:00 - 8:30 p.m. Pleasanton's downtown summer Concerts in the Park series began over 30 years ago and is still going strong. The live music covers a broad spectrum of musical styles, from big band and swing to Latin to R&B to rock in its various manifestations, including folk, celtic, and modern. Wayside Park - at the corner of First and Neal streets - is the perfect place to kick off your summer weekends. This year's concerts include: June 7 - OTR, Classic Rock June 14 - Cooltones, Big Band/Swing June 21 - Ruckatan Latin Tribe, Latin/Reggae World Music June 28 - The Crisis, Eclectic Rock July 5 - James Nagel Band, Rock and Soul July 12 - The Bacchus Brothers, Folk Rock July 19 - West Grand Boulevard, Classic Soul & Motown July 26 - Pladdohg, Celtic Rock August 2 - Finding Stella, Modern/Alt Rock August 9 - Burton & Co, Jazzy Rhythm and Blues August 16 - Synaptic Gap, Modern Rock Hits August 23 - Magic Moments, Hits of the 50s & 60s August 30 - Public Eye, High Energy Rock & Roll
Summer Wine Stroll
Saturday, July 20 5:00 - 8:00 p.m. The PDA's Annual Downtown Summer Wine Stroll has been going on for more than a decade now, and its longevity is an indication of its popularity. This year's event will allow patrons to taste a variety of wines and sample small bites at a number of participating downtown locations, and take home their own commemorative wine glass.
Sizzling Saturdays
Every Saturday in August and September 6:00 - 9:00 p.m. After a stellar debut in 2012, Sizzling Saturdays are back! Taking advantage of the season's lovely evenings and long daylight hours, a variety of downtown shops and eateries will be offering specials. Live music will be played in several locations on Main Street and special entertainers for children will also be on hand.
Halloween Brew Crawl
Saturday, October 26 5:00 - 8:00 p.m. The PDA's popular beer crawls - one is held every year around St. Patrick's Day as well - continue in 2013. Downtown merchants, restaurants and local breweries come together for a night of sampling over 20 local beer and food pairings. To add to the festive, holiday spirit of this event, guests are encouraged to wear costumes.
Holiday Events
Saturday, November 23 Earlier than the Bird - 7:00 - 11:00 a.m. Magical Holiday Evening - 4:00 - 7:00 p.m.
Kicking off the festive and entertaining holiday season the Saturday before Thanksgiving, Earlier than the Bird features amazing deals at Pleasanton's unique downtown stores, along with special refreshments.
That same night, the Magical Holiday Evening serves as Pleasanton's official start to the holiday season. Downtown shops, restaurants and businesses usher in the holidays with festive decorations, twinkling lights, beautiful window displays, holiday treats and, of course, sales! Santa and his helpers will be available at the Museum on Main for photos while elves will roam the street distributing candy canes. Live entertainment and childrens' activities will add to the festive holiday atmosphere.
Hometown Holiday Parade & Tree Lighting
Saturday, December 7 5:00 p.m. - 8:00 p.m. Another traditional holiday event, the annual parade features local marching bands and community groups as well as a visitor who lives at the North Pole. The tree lighting ceremony wraps up the evening at the Museum on Main. See www.hometownholiday.com for all the details.
History on Display
Along with the downtown's packed event calendar, another overwhelming theme of the area is the history that is on display every day. It is no coincidence that one of its mainstays is the Museum on Main and the Amador-Livermore Valley Historical Society (ALVHS). Its 603 Main Street facility, built in 1914 by funds donated by the Pleasanton's Women's Improvement Club, once housed the old Town Hall, the Police Department and the first free library in the city of Pleasanton. Despite those many prior uses, now the mission is "linking the past to the future by preserving, clarifying, and disseminating information about history specific to the Tri-Valley region." Permanent displays tell Pleasanton's story through artifacts and images while temporary galleries provide opportunities to display exhibits of regional and national interest, including "Lincoln: the Constitution and the Civil War," a traveling exhibition from the National Constitution Center, the American Library Association, and the National Endowment for the Humanities, which will be featured from June 12-July 28.
Another great way to learn about Pleasanton history is to take the self-guided downtown walking tour, available at www.pleasantondowntown.net/pdfs/WalkingTourGuide.pdf . Prepared under the guidance of local architect Charles Huff, the tour provides information on 50 different downtown buildings as well as Pleasanton's iconic arch, originally constructed in 1932 for $532 by the Women's Improvement Club. Now one of the few remaining gateway signs in the state, it was originally topped with police and fire sirens.
Alarms are no longer heard in downtown's 1929 fire station since its renovation and opening in 2010 as the Firehouse Arts Center, another hive of activity in downtown Pleasanton. The historic building, owned and operated by the City of Pleasanton, now houses a 227-seat studio theater, 2,000 square feet of versatile gallery space, two large art classrooms, and a grand lobby for receptions and events. Upcoming performances include concerts by rocker Greg Kihn on March 22-23, Beatles tribute band The Sun Kings on March 30, and a Pacific Coast Repertory Theater production of the musical "She Loves Me" from April 12-28.
Promoting Downtown
Considering how special and wonderful the area is, it should not be a surprise that it has its own overseer. In 1984, the Pleasanton City Council created the Pleasanton Downtown Association (PDA), an assessment district that operates as a non-profit organization with the aim of developing and sustaining a vibrant downtown community. That goal was enhanced in 2000 with the downtown's participation in the California Main Street system, a program which is aimed at revitalizing neighborhood business districts via a comprehensive approach that entails elements of public/private partnership, promotion, design improvements, and keen economic strategies.
The combined effort has been a great success. The synergy created by the two intertwined programs has helped downtown grow in stature as the heart of the community.
The PDA's most recent achievement is the creation of a Hospitality District, capping a three-year effort in conjunction with the City of Pleasanton, downtown residents, and other key stakeholders. "We are very pleased that the Pleasanton City Council recently adopted the new Downtown Hospitality Guidelines, which will help businesses to be more vibrant and for the rules and regulations surrounding hospitality to be more clear and consistent in the Downtown area," says Laura Olson, Executive Director of the PDA. "Downtown Pleasanton is unique with a very special charm and character, and these new guidelines will help increase vitality responsibly while not taking away any of the charm that is Downtown Pleasanton."
Another example of the PDA's innovative approach is the group's strong social media presence. "Our organization is often acknowledged as one of the leaders in social media within our industry," Olson says. "We strongly believe that communicating with our downtown patrons through social media allows us to have timely, personalized dialogue with as many people as possible and share the downtown message in the most effective way. Our Facebook page boasts 4,200 'likes' and is a wonderful resource for up-to-the-minute information on what is happening throughout downtown."
The PDA also has nearly 1,200 followers for its Twitter account, @PleasantonDT, and recently launched an Instagram page. Olson adds that a Pinterest page is coming later this year, which will give the organization a firm foothold on all the big social media sites.
That is not the only high tech method the PDA is using, however. "Our iPhone app, titled 'Pleasanton Downtown,' has been downloaded 1,800 times and the Android version is now available for free download in Google Play," Olson says. "We are seeing great daily use of the app and we continue to update and develop this great directory and tool. One useful feature is a Taxi Resource List that is fully optimized so that everyone has access to a safe way home. We want everyone to have fun and enjoy downtown responsibly."
Today, downtown Pleasanton is home to over 575 businesses, all of whom contribute to the betterment of the area through their membership in the PDA. In recent years, businesses outside the downtown have also been able to join the organization, thanks to the creation of a new Associate Member category. Associate Members are entitled to a number of benefits, including the opportunity to promote their businesses at certain PDA events.
For additional information on downtown events or how to become an Associate Member of the PDA, call (925) 484-2199, visit www.pleasantondowntown.net , or stop by the office at 4725 First Street, Suite 200.
Also in this issue ...