Feature Stories
January 1, 2017 | Volume 1, Number 12
New Rail Authority Created to Ease San Joaquin to Tri-Valley Commute
By Hacienda Pulse Staff Writer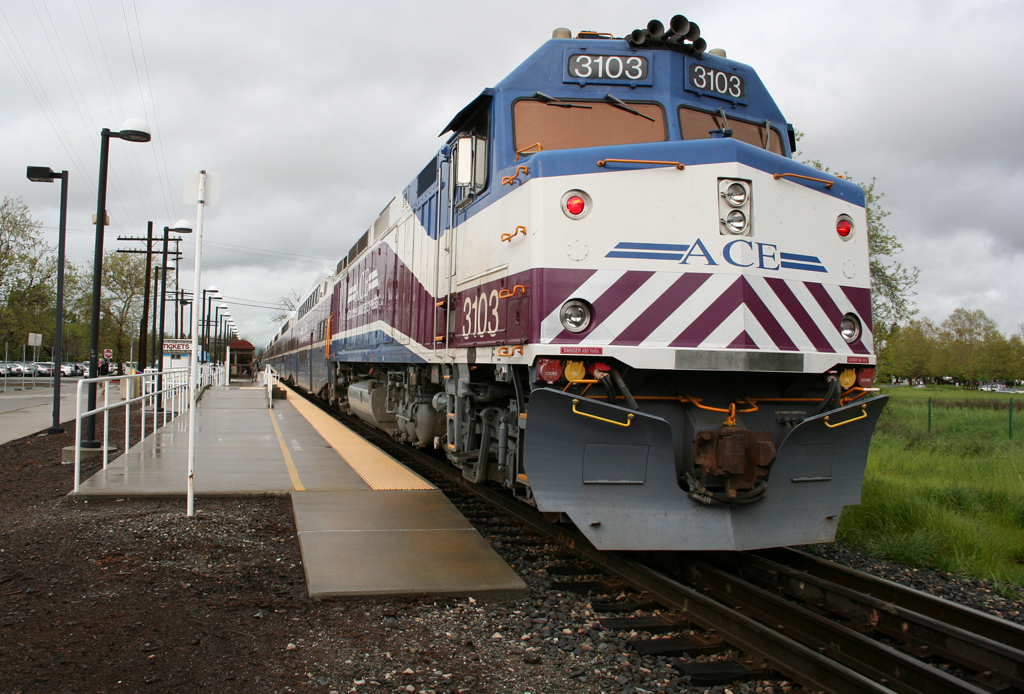 Hacienda is located at the heart of the regional market known as the Interstate 580/680 corridor. The Dublin/Pleasanton BART station is located within Hacienda, on its northern border, and many other transit services link to that important transportation hub. Aware of the importance of commuting options, Hacienda has supported a variety of efforts to make commuting to the Tri-Valley as easy as possible. The range of available transit choices are part of what makes Hacienda's location appealing to local employers.
Because of those options, commuting works well for many Tri-Valley workers. With the rising popularity of housing located to the east of the Tri-Valley, however, there has been a dramatic increase in traffic congestion along the Interstate 580 over the Altamont Pass. Those commuting to the Tri-Valley from San Joaquin County on 580, the primary corridor between those areas, can face an especially long and exhausting commute. But that may change thanks to the recent passage of legislation to support a new rail link between a Tri-Valley BART station and the Altamont Corridor Express (ACE) train.
Signed into law in October 2017, California Assembly Bill AB 758 creates the new Tri-Valley-San Joaquin Valley Regional Rail Authority, which becomes effective in January 2018. In its first 18 months of existence, the agency is charged with meeting three ambitious goals. First, to identify the most cost-effective and responsive rail connection of BART and ACE. Second, to create a funding plan and schedule for completion of the rail connection. Third, to complete a preliminary design that includes right-of-way routes, stations, equipment, and any other facilities required.
Many Support a New Rail Extension
The creation of the Tri-Valley-San Joaquin Valley Regional Rail Authority can be traced to hard work by many agencies, elected officials, and business groups eager to resolve some of the long-standing transportation issues that affect the greater Northern California megaregion. The Alameda-San Joaquin Regional Rail Working Group is one of those groups. Started in October 2015, its mission is "to ensure that inter-regional rail planning leads to project implementation that is fast, cost-effective, and responsive to community goals and objectives."
Scott Haggerty, who is a member of the Alameda-San Joaquin Regional Rail Working Group as well as an Alameda County Board Supervisor, has been working in support of improved transit for many years. "I can say with certainty that the passage of AB 758 is a game changer for rail expansion in the Tri-Valley, and I'm confident it will result in fast and effective results," says Haggerty, whose district includes the cities of Livermore, Dublin, most of the city of Fremont, and unincorporated areas of East Alameda County.
"The bill will enable policy makers in both the Tri-Valley and San Joaquin County to work together to address our urgent transportation needs and deliver cost-effective and responsive rail connectivity," says Haggerty. "An interregional rail connection between the San Joaquin Valley and the Tri-Valley is needed to support the growing interconnected economies of our Northern California megaregion. This vital link is needed to connect our workforce to affordable housing, reduce greenhouse gas emissions, and improve overall mobility in this key freight-movement corridor. It will improve the overall quality of life for our Tri-Valley residents."
Extension Will Link 500 Miles of Rail
According to Alameda-San Joaquin Regional Rail Working Group, the rail connection between BART and ACE "will be a phased improvement plan that will feature diesel or electric multiple unit technology to provide a safe, reliable, and congestion-free transportation option for commuters." This light-rail extension will link nearly 500 miles of commuter and intercity rail with more than 130 stations within the larger Northern California region.
Within Tracy, the rail system will utilize Union Pacific right-of-way. The trains will then travel through the Altamont Pass onto the historic Transcontinental Railroad right-of-way, which is now owned by the County of Alameda. Finally, the rail system will enter the I-580 Caltrans median to travel through the Tri-Valley to a BART station. It is anticipated that the initial service plan will operate trains every 30 minutes during peak periods and will connect with every other BART train.
The Livermore Amador Valley Transit Authority (LAVTA) will be acting as the administrative agency for the Tri-Valley-San Joaquin Valley Regional Rail Authority. The new rail link "opens up a whole new transportation option," says Michael S. Tree, Executive Director of LAVTA. Currently, travel time from West Tracy to the West Dublin BART is 40 to 60 minutes. With the new rail link, travel time "will be 44 minutes every day," says Tree.
Shorter travel times are bound to be welcomed by commuters unhappy with the traffic bottleneck of the Altamont Pass. As noted by the California Assembly, "the Interstate 580 freeway serves the Altamont Pass Corridor and ranks as one of the most congested freeways in the megaregion during peak hours due to a high volume of regional and interregional commuter, freight, and recreational traffic."
According to a brochure from the Alameda-San Joaquin Regional Rail Working Group, "the growth of Northern San Joaquin Valley commuters to the Bay Area on the I-580 has been particularly dramatic, more than doubling from 31,670 in 1990 to 64,930 in 2013, with traffic anticipated to increase another 60% within the next two decades. Additionally, nearly 14,000 trucks per day slowly travel over the Altamont Pass causing further congestion and bottlenecks. The Metropolitan Transportation Commission ranks the I-580 among the Bay Area freeway corridors with the heaviest commuting delays."
Public involvement is encouraged by the Tri-Valley-San Joaquin Valley Regional Rail Authority, which is holding its first public meeting on January 17, 2018. For more information about the Tri-Valley-San Joaquin Valley Regional Rail Authority, visit the LAVTA website at http://www.wheelsbus.com .